L.amin Joof started making music in Gambia when he was 16 years old. He sang with his three friends in his band called Jossan Bi, and all but Joof left the country to find work elsewhere. After the group disbanded, Joof began DJing at nightclubs and wedding parties, forming his system of reggae artist sounds. But despite spending his year building his music career, Joof struggled to sustain himself. In 2015, he left Gambia to find a job in the UK. There he was detained in three immigration centers for nine months.
"Most of the songs I write now are inspired by that experience," Joof says in the video. "When I was at Brook House in Gatwick, the only outdoor space was the smoking area. [crowded]The top was net instead of empty. A jail is like a prison, but worse than a prison because there is no release date. I want my music to tell the stories of my struggles, my abuse, and how I fought to get to where I am today. "
While detained at the closed Dover Immigration Center, Geoff attended music workshops organized by the charity Hear Me Out, founded in 2006. "They gave me a voice to speak to the world again," he says Joof. "It was a gift of paradise."
After being released in 2016, Joof became one of the board members of the charity and a member of the house band. Formed in Dover during a residency in 2019, the Hear Me Out Band's rotating line-up is made up of musicians who have experience working with detainees and who have been in custody themselves. Today, they hold workshops, perform in prisons and public spaces, and record their own music that is distributed through charities.
Percussionist, workshop facilitator and Hear Me Out Band member Anna De Mutiis said from the charity's office: in London. "The band formed because many of us connected during the workshop with little pockets of joy. We wanted to keep in touch and keep playing music together."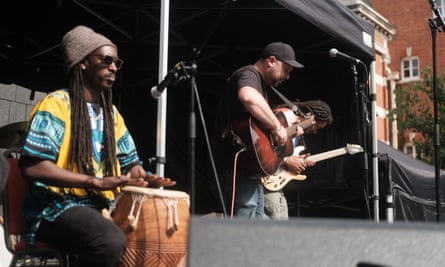 Hear Me Out was formed on the idea that music can provide comfort, joy and expression to people in difficult situations. His work is inspired by historical examples such as political prisoners in Chile during the Pinochet dictatorship and concentration camp music during World War II. "I'm not saying that jails are the same as concentration camps, but I'm interested in music for health and resilience," says Gini Simpson, Artistic Director of Hear Me Out.
Each year, 24,000 people are detained in UK immigration centers without a release date. By law, centers are required to provide activities for detainees, but most facilities are severely under-resourced. "The Home Office outsources custody to companies with profit-seeking shareholders," Simpson says. "Sometimes the center asks us to come over, but it can be difficult to work with a system that is constantly changing. Not flexible."
The Hear Me Out Band currently has seven members from Iran, Italy, Nigeria, Gambia and the UK. Each musician brings a unique history to the band's recording sessions in professional studios. "There are reggae, hip-hop, jazz, gospel songs and electronic influences," says De Mutiis. "Someone comes up with an idea, someone else reacts. When we gather all our influences and see where the music takes us, there's a powerful energy in the room."
More than creative disagreements and inflated egos ("We're learning from each other and growing musically," says Joof), the band's dynamics are often driven by Britain's ever-changing immigration system. disturbed by "When I attended the workshop, someone was released in the middle of the workshop and was fortunate enough to be back in the community," Simpson says. "Or you go to the center and you find surprisingly important musicians being deported."
The Hear Me Out Band perform live music that members have created together and collaborate on workshops with inmates. An upbeat song about spreading kindness, A Cuppa Tea is particularly memorable. "The song was written by a musician we worked with frequently, but he is currently deported to Jamaica," says Simpson. "In Britain, tea is a welcome thing, but he was in jail."
"We still play his songs in concert," says De Mutiis.
Joof and De Mutiis will soon begin rehearsals for the band's first concert of 2023. Both members see the performance as a celebration of Hear Me Out's work, but also recognize an educational opportunity. "There are still a lot of people who don't know about jails," Geoff says. "I want people to know what is going on in them and what made me here today after nine months: faith, strength, unity and music. I want to."