Actor, producer, politician, and professional bodybuilder Arnold Schwarzenegger has had an incredible movie career spanning over fifty years. In that time, he's amassed an impressive filmography that includes many of the greatest action movies ever made. He's an icon whose real life persona often blurs together with his memorable characters, such as the Terminator and Conan the Barbarian. With decades-worth of cinematic carnage and classic one-liners to his name, Schwarzenegger has more memorable moments than nearly any other actor out there. Let's look back at some of the action star's most essential moments.
16/16

You're Fired – True Lies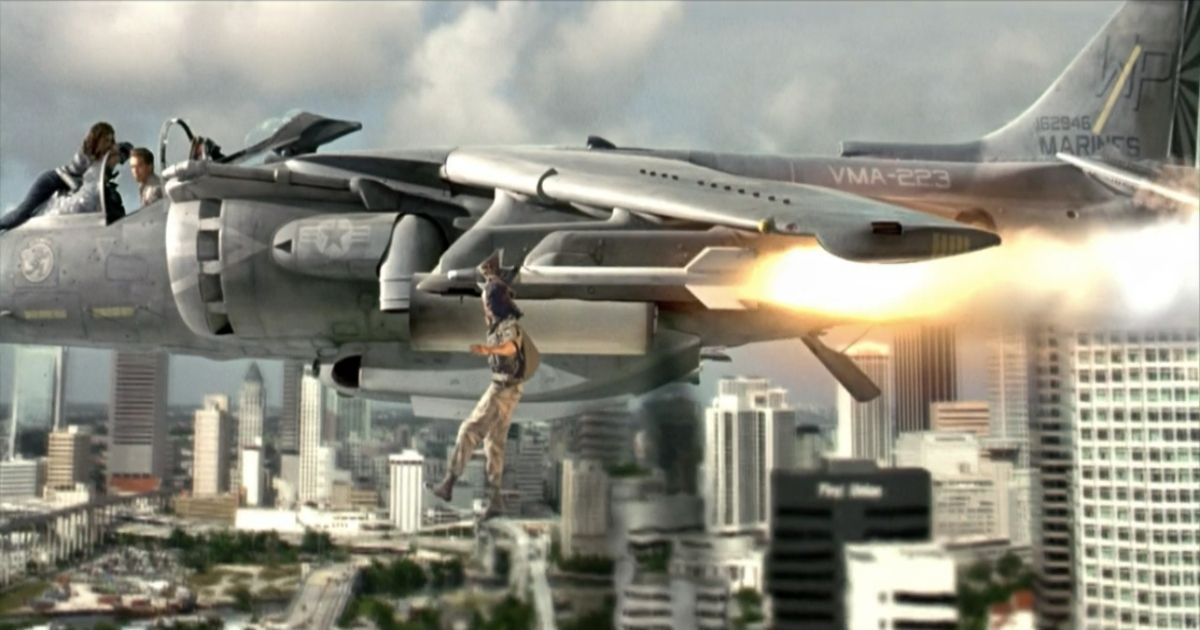 One of the less frequently mentioned films from the iconic James Cameron-Arnold Schwarzenegger partnership that ran from the middle '80s to the late '90s is True Lies. However, just because it's not as highly revered as its Terminator siblings doesn't mean it's without its fair share of great Schwarzenegger moments. The action-comedy revolves around a secret agent (played by Schwarzenegger, of course) who masquerades as an average salesman by day. In his mission to stop a terrorist bent on world domination, the spy must also reconcile his disparate identities and save his failing marriage. This fun premise leads to many exciting sequences, each punctuated with a great quip from the king of one-liners.
While there are many great moments from this flick, the ultimate Schwarzenegger moment is towards the end of the movie, when the action star is flying a fighter jet over Miami. With the evil Aziz ensnared on one of the plane's missiles, Schwarzenegger says "you're fired," pulls the trigger and sends the bad guy through a collapsing building and straight into a helicopter full of terrorists.
15/16

I Lied – Commando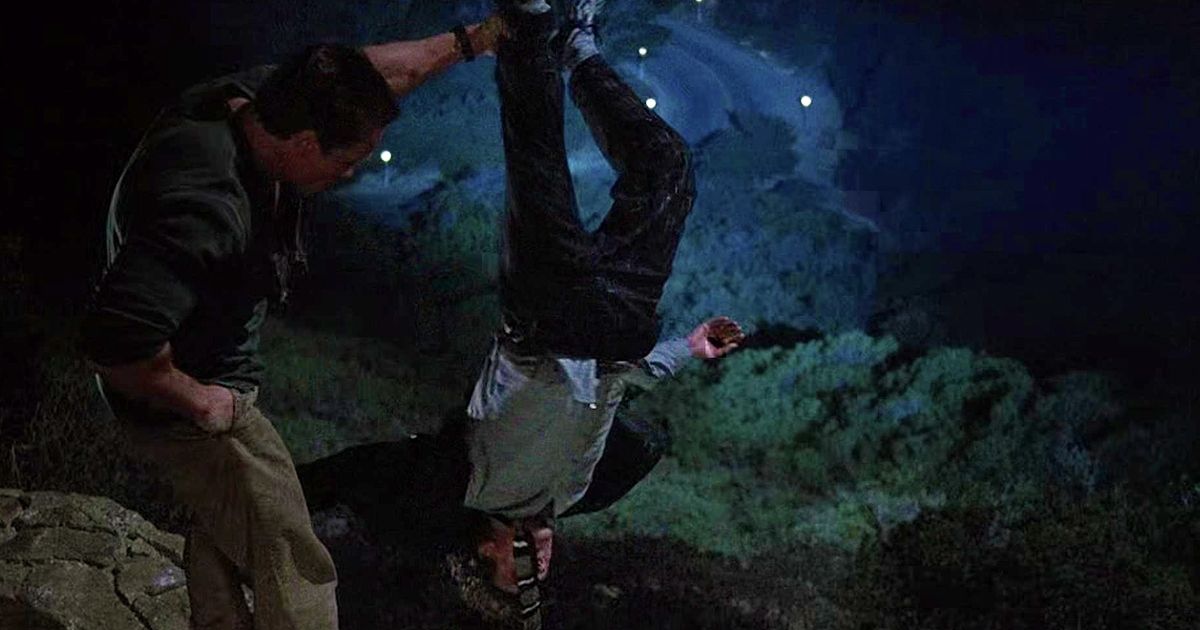 One of the best action movies of the 1980s, Commando is pure explosive, quippy, campy, squib-detonating, glass-shattering, car-exploding, knife-throwing, rocket-launching cinematic bliss. Schwarzenegger plays retired super-soldier John Matrix, who sets out on the path of destruction when an evil dictator kidnaps his daughter. Thin on plot and characterization but bursting at the seams with impressive stunts, creative kills, and hilarious one-liners, Commando could and probably should have an "essential Schwarzenegger moments" list all to itself. That said, we've tried to narrow it down to just a few from Commando to give the other movies a chance.
One of the best moments from this classic occurs early in the film, when Matrix catches the smarmy henchman Sully and dangles him upside down over a cliff. This scene works best in the proper context; earlier in the film, while Matrix is briefly held captive by the baddies, he says to Sully: "You're a funny guy, Sully. I like you. That's why I'm going to kill you last." Jumping forward just a few scenes later, however, Matrix now holds Sully's fate literally in his hands. He says to him: "Remember, Sully, when I promised to kill you last?" He gives Sully a few seconds of hope, then shatters it, telling him: "I lied."
14/16

Arnold Meets Arnold – Last Action Hero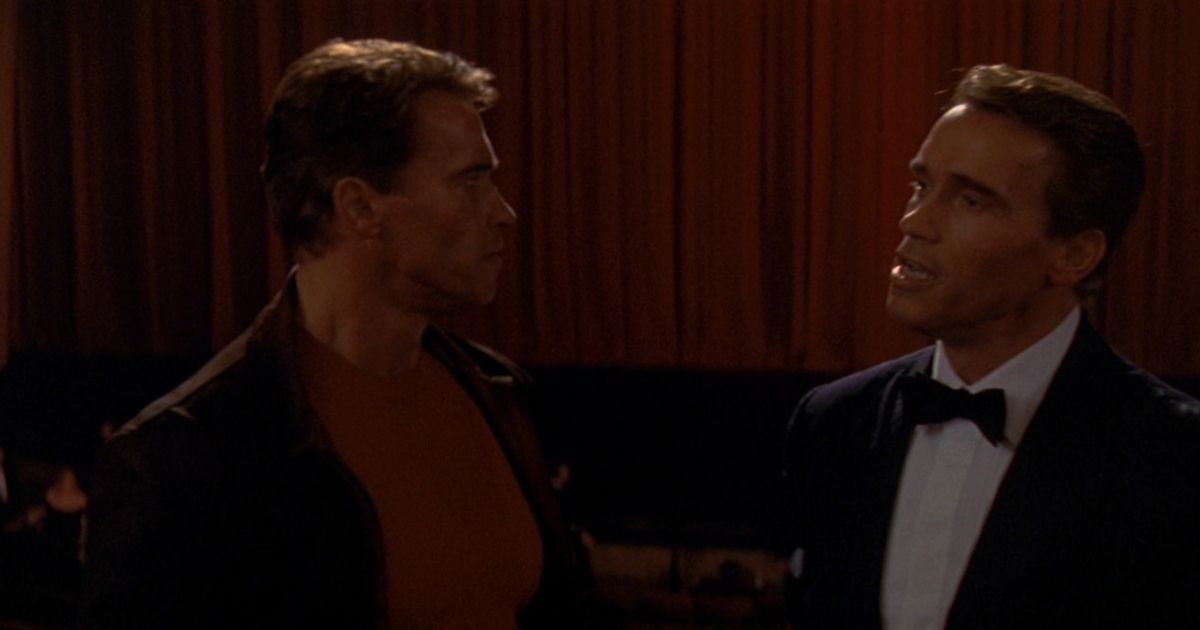 Oh, Last Action Hero, how misunderstood you are. The '90s action-comedy which, according to Slash Film, had an extremely troubled production, is certainly no masterpiece, but no Schwarzenegger fan can deny that it's got some great moments. The fourth wall-shattering film follows young Schwarzenegger fan Danny, who is given a special ticket that sucks him into the fictional world of his favorite Schwarzenegger film series, Jack Slater. Things get complicated when the bad guy from the fictional world gets his hands on the magic ticket and enters the real world, where he sets his sights on ending the life of the real-life Schwarzenegger, who plays his rival in their films. It all culminates in an essential moment in which the movie character Schwarzenegger meets the real Schwarzenegger and must try to save him from assassination. The two Schwarzeneggers have a brief struggle, then exchange a few words, the fictional version telling the real version "I don't really like you, okay? You give me nothing but pain."
13/16

Private Call – The Running Man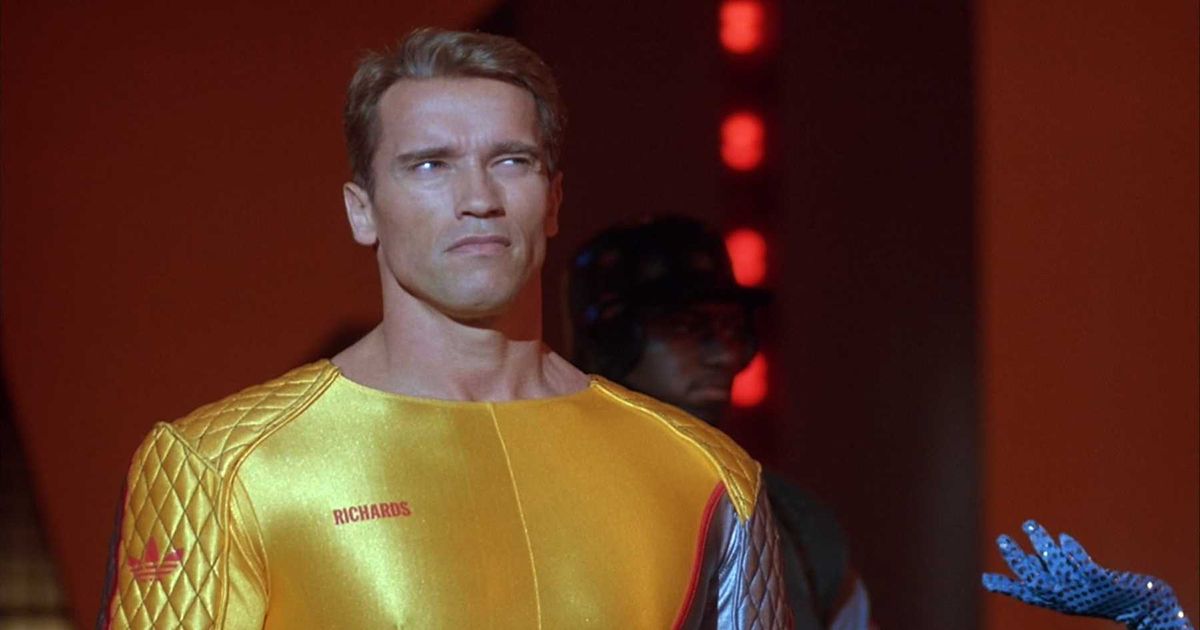 The Running Man is an underrated Schwarzenegger vehicle from the late '80s that's got a cool science fiction premise and a boatload of classic moments. Loosely adapted from the Stephen King novel of the same name, The Running Man follows police officer Ben Richards, who's framed for murder and forced into appearing on a televised game show in which convicted criminals face off against professional killers. As the film progresses, Schwarzenegger battles a plethora of unique villains, each with their own theme: there's Buzzsaw, a maniac with a chainsaw; Sub Zero, an evil hockey player; and Dynamo, a lightning-slinging opera singer, among others.
Each bad guy's death is dealt with his own weapon, and complemented by an incredible Schwarzenegger quote. While these are all great moments, the essential moment from The Running Man is when Schwarzenegger's character is offered a deal by the evil game show host. The host invites him to a private video call and draws up a contract deal that promises riches and an elegantly furnished pad. Instead of playing along, Schwarzenegger grabs the camera and lets loose one of the most terrifying threats ever uttered in cinematic history: "You cold-blooded bastard! I'll tell you what I think of it: I'll live to see you eat that contract, but I hope you leave enough room for my fist because I'm going to ram it into your stomach and break your [expletive] spine!"
12/16

Right? Wrong! – Commando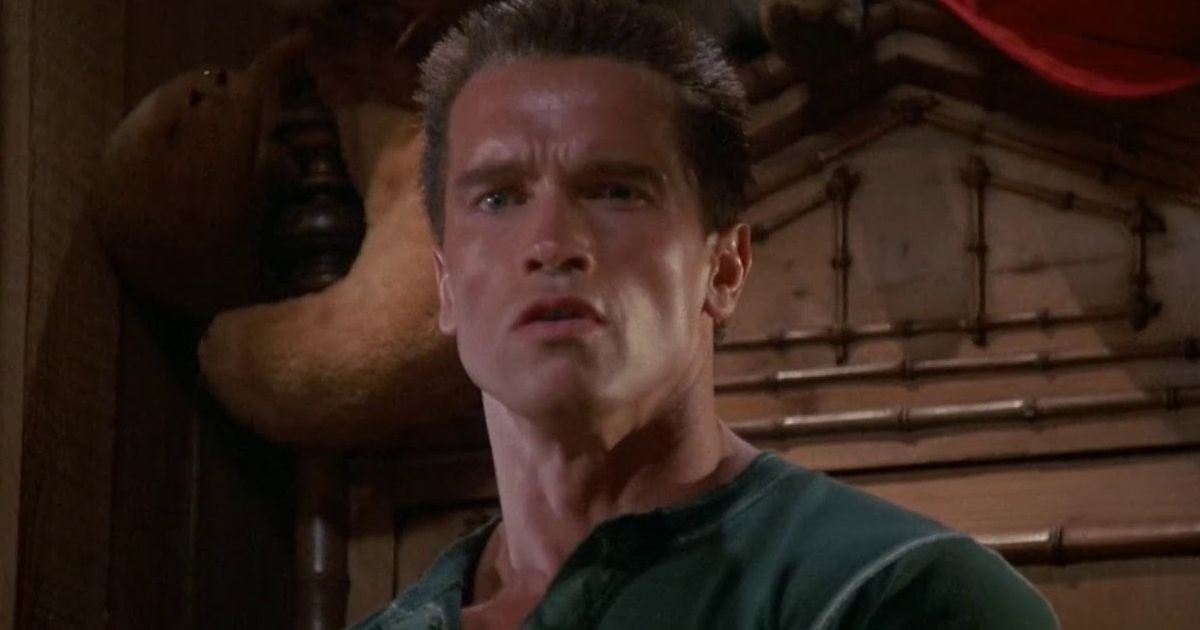 Here we are again, looking at another iconic moment from Commando. This one happens right at the start of the film, when the villains have just raided Matrix's home and kidnapped his daughter. While searching the house for his daughter, Matrix meets a messenger for the enemy, who is there to explain the reason for his daughter's capture and the conditions which he must agree to if he wants to get her back. "You gotta cooperate, right?" the bad guy asks. Schwarzenegger, never one to mince words, promptly answers "wrong!" and sends a bullet through the henchman's skull.
11/16

I'll Be Back – The Terminator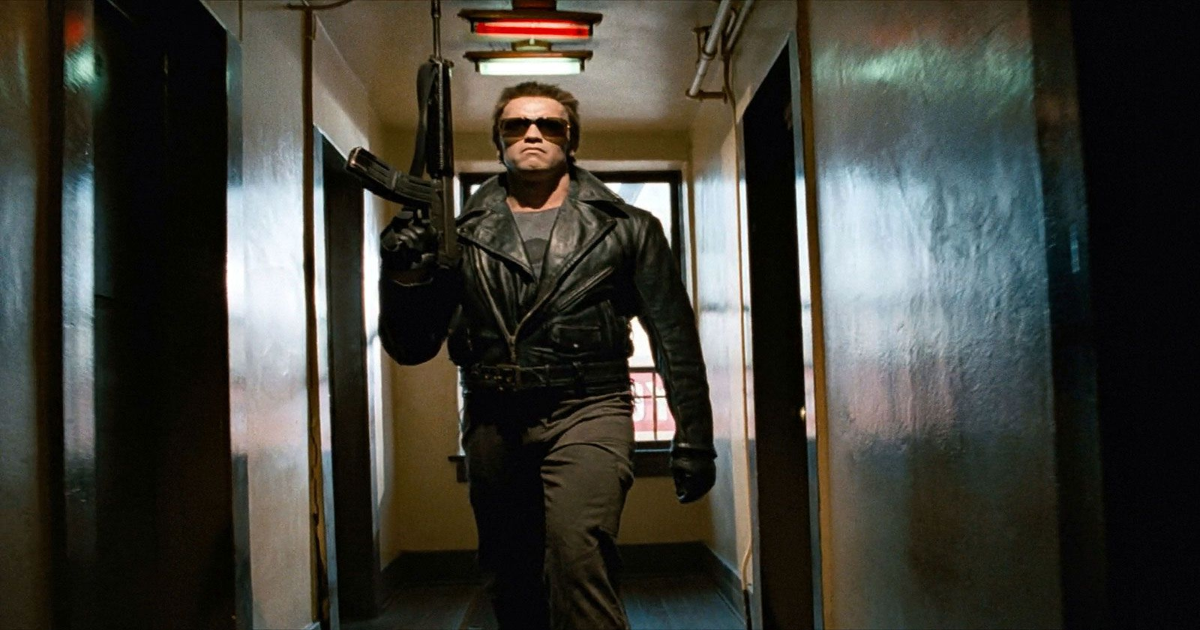 James Cameron's seminal cyborg slasher The Terminator is not just one of the best sci-fi flicks of the '80s, but it's also the movie that made Schwarzenegger an international superstar. As such, the movie is absolutely loaded with awesome Schwarzenegger moments. Hands down, the best one, however, is when Sarah Connor, the Terminator's target for assassination, is taken to the police station for protection. The Terminator finds her there, and attempts to enter through the front door. There, the robotic killer meets a receptionist, who refuses to allow a visit with Connor. Not to be deterred, the Terminator responds with "I'll be back," and leaves the station. Moments later, the cyborg crashes his way inside the station with a stolen car, then proceeds to search for Connor, killing any officer who stands in the way.
10/16

Crush Your Enemies – Conan the Barbarian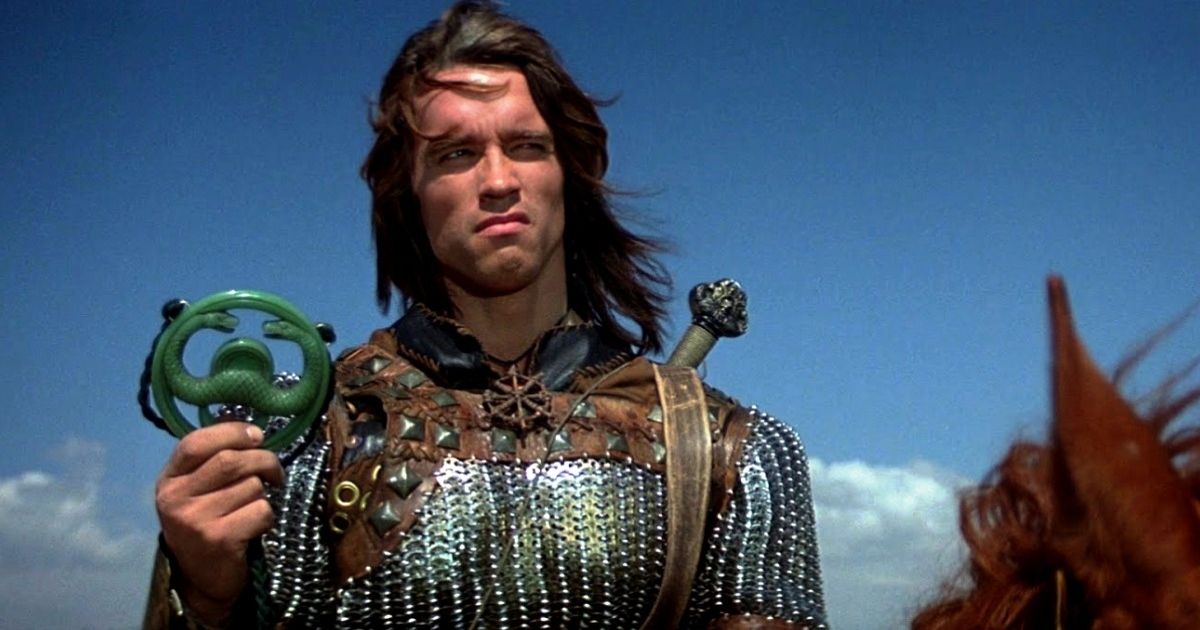 One of the best fantasy movies of the 1980s, Conan the Barbarian may have been Schwarzenegger's first major movie role, but his larger-than-life persona was already well-established. Following the titular Conan's quest for revenge against the evil cult leader Thulsa Doom, who killed his mother, Conan the Barbarian features many of the best moments of Schwarzenegger's illustrious career. One such moment is the famous line that Conan delivers when asked the question "what is best in life?" The barbarian answers: "To crush your enemies, see them driven before you, and to hear the lamentations of their women." Delivered with the confidence of a barbarian, and the inimitable inflection of the Governator, who could argue with that?
Related: 16 Facts About Conan the Barbarian You Didn't Know
9/16

Consider That a Divorce! – Total Recall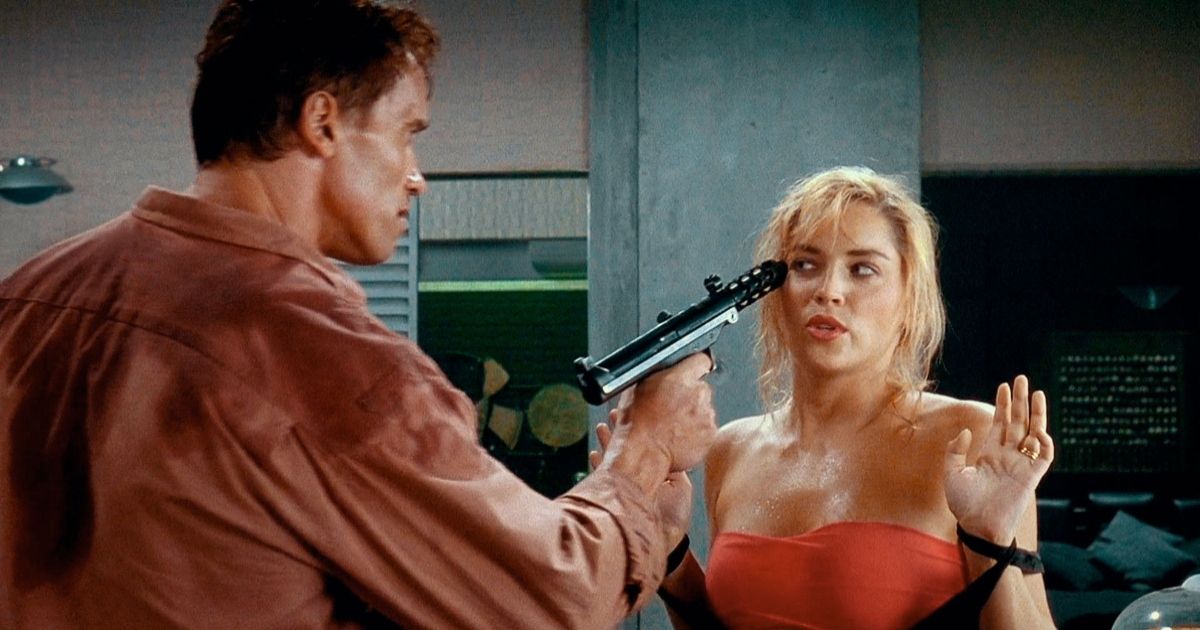 Paul Verhoeven's Total Recall is an action classic, and, according to Roger Ebert, "one of the most complex and visually interesting science fiction movies in a long time." Additionally, Total Recall is one of the best Arnold Schwarzenegger one-liner delivery systems. Schwarzenegger plays Douglas Quaid, a bored man in 2084 who dreams of visiting Mars. Without the means to travel there, Quaid visits a mysterious company that claims to be able to implant false memories of such extraordinary travels for a reasonable fee. The procedure fails, and Quaid realizes that his entire life may have been a false memory implanted by the dangerous company.
Upon having the epiphany, he's targeted by corporate mugs and hired killers, which engage him in some of the best action scenes of the '90s. An amazing moment from this great film comes at the end of a fight scene between Quaid and his double-crossing secret agent wife Lori. Just before Quaid delivers the fatal shot, Lori pleads with him, reminding him that they're married. Undeterred, Quaid pulls the trigger and kills Lori. In classic Schwarzenegger fashion, he's got a one-liner to alleviate any remorse: "Consider that a divorce!"
8/16

Insulting the Predator – Predator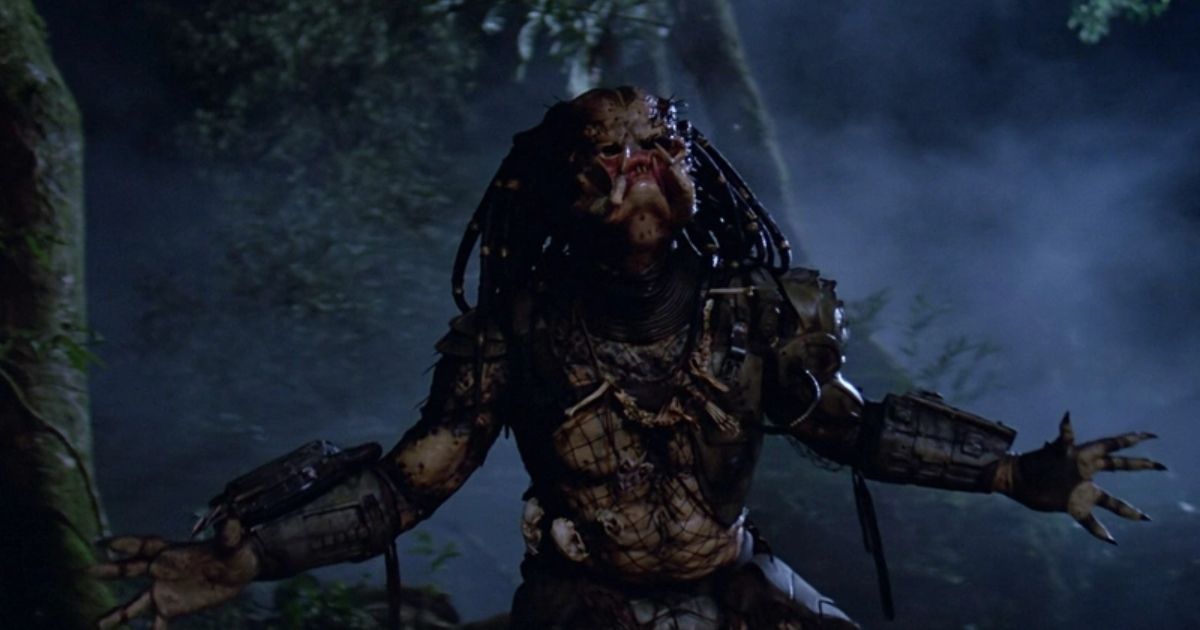 A science fiction-horror-action classic, Predator is what you get when you cross Commando with Alien, and it is glorious. Schwarzenegger plays Dutch, a mercenary hired to save a group of diplomats who are being held captive in Guatemala. Upon touching down in Guatemala, however, Dutch and his team find that the rescue mission is the least of their worries, as an extraterrestrial warrior is in the area and is bent on hunting them down. One of the best moments from this flick is when Dutch comes face-to-face with the titular Predator. Before he engages the beast in a duel to the death, Dutch slips in an iconic insult that we unfortunately can't publish in its original form. It goes something like this: "You are one ugly [expletive]." This is an essential Schwarzenegger moment, as only he would have the guts to insult a trained killer from outer space.
7/16

Camel K.O. – Conan the Barbarian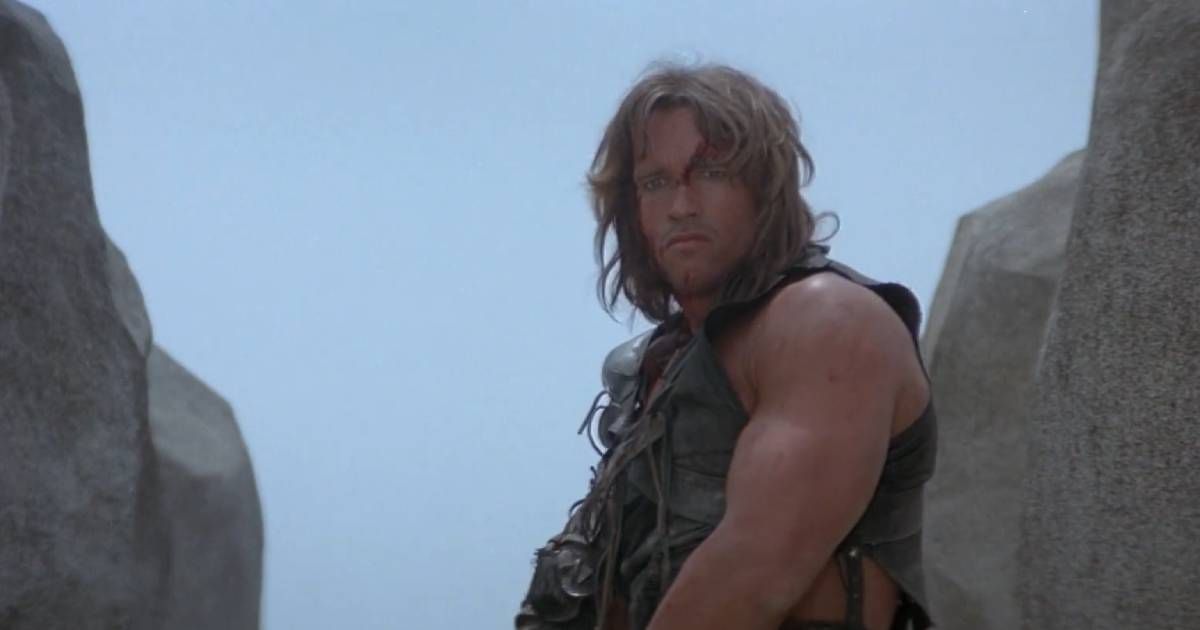 Coming back around to Conan the Barbarian, we now look to another brief yet extremely memorable moment from the sword-and-sorcery epic. Shortly after raiding the Tower of the Serpent, Conan and Subotai stumble through the streets of Zamora in a celebratory daze. When Conan accidentally bumps into a camel, he's taken off guard and, believing the beast to be an enemy, he punches it in the face. While the scene has been criticized for potentially depicting and promoting animal cruelty, it is so baffling and barbaric that no list of essential Schwarzenegger moments can be without it.
6/16

The Shed Attack – Commando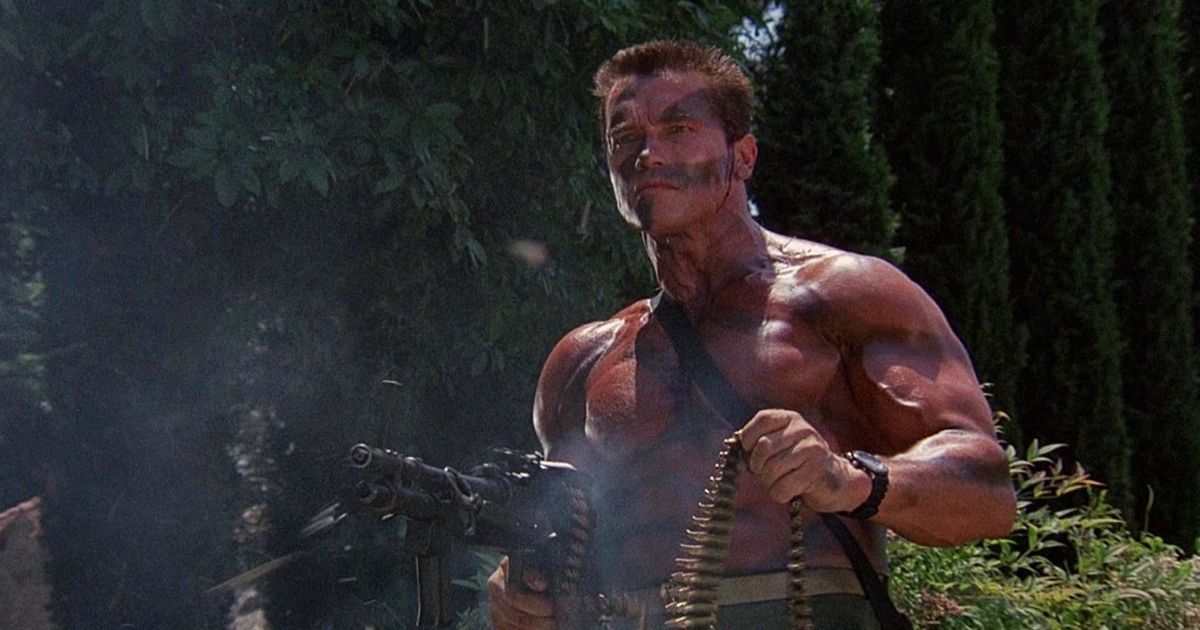 Another classic moment from Commando: the shed attack. When John Matrix finally arrives at the villainous dictator's massive villa, the final act of Commando unleashes a non-stop deluge of violence as Matrix takes on an entire army of bad guys. While the whole thing could be considered an essential moment, the highlight of the battle is when Matrix starts to improvise with gardening implements. Here, Matrix channels his inner Jason Voorhees, impaling a man with a pitchfork, scalping another with a buzzsaw, and lopping off an arm with a machete.
5/16

See You at the Party, Richter! – Total Recall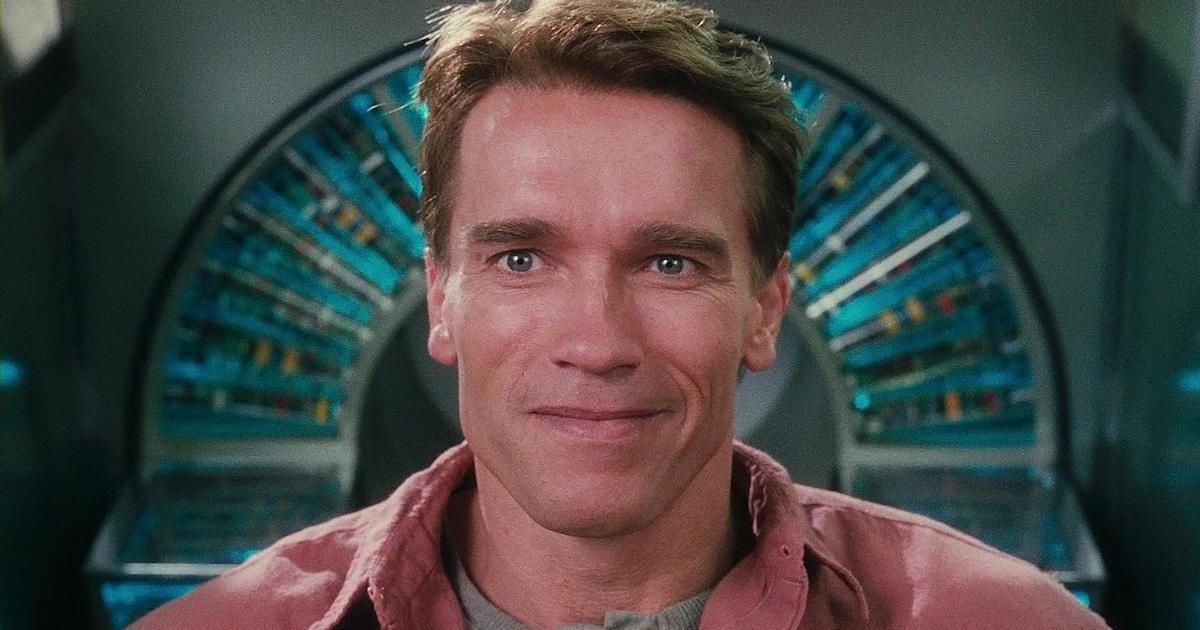 In the final confrontation of Total Recall, Douglas Quaid has some fun with his new hologram device. The classic scene sees Quaid walking right into an ambush by Richter and his minions. The baddies open fire, seemingly killing Quaid. Moments later, Quaid stands up and begins to laugh. "He's got a hologram!" shouts Richter, which prompts the real Quaid to step in and blast the bad guys to smithereens. A great Schwarzenegger moment becomes one of the all-time best when Quaid chases Richter onto an elevator, and they square off for a final duel. Quaid knocks Richter off the lift, leaving him hanging onto the edge as they quickly approach a concrete wall above. Quaid grabs onto Richter's arms, feigning that he'll help him up, and Richter is smashed by the elevator shaft, leaving just his severed arms in Quaid's grasp. Quaid laughs in celebration, then tosses the arms down the shaft with Richter, and ends the fight by throwing an earlier line from Richter back at him: "See you at the party, Richter!"
4/16

Let Off Some Steam – Commando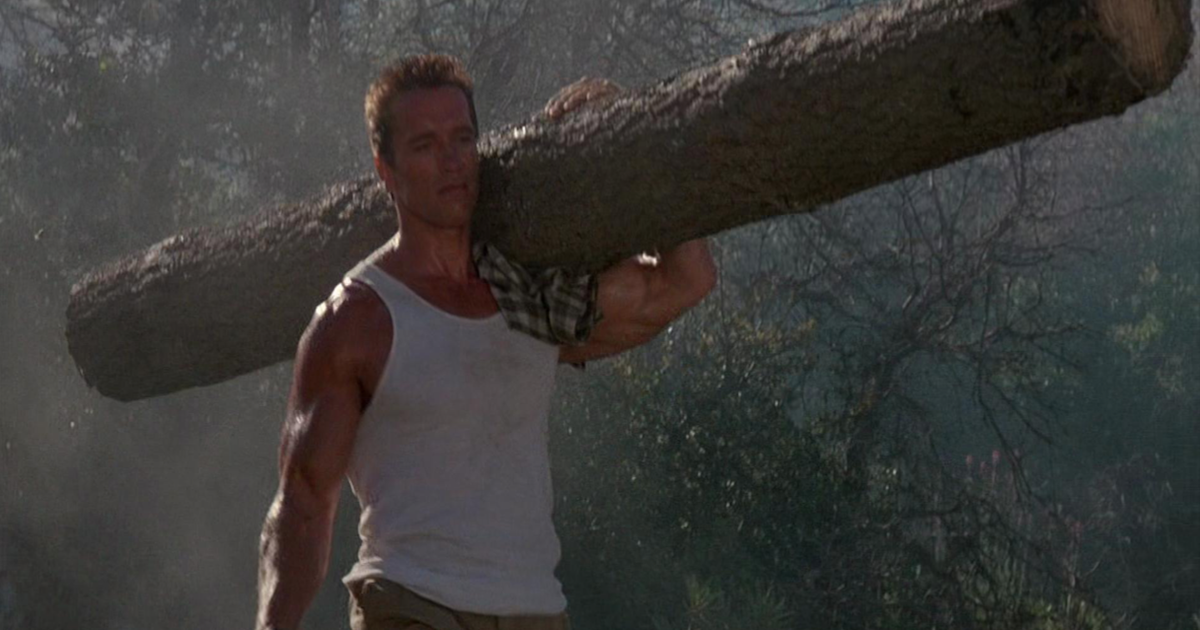 Hands down, the best moment in Commando is Matrix's final duel with Bennett. After a lengthy knife fight, the two combatants wind up dueling in the basement of the villa. After pinning him to a wall, Matrix rips a steam pipe off the wall and thrusts it into Bennett's chest. As Bennett dies and the steam bellows out of the pipe, Matrix delivers one of the greatest one-liners of Schwarzenegger's career: "Let off some steam, Bennett!"
3/16

Your Clothes, Your Boots, and Your Motorcycle – T2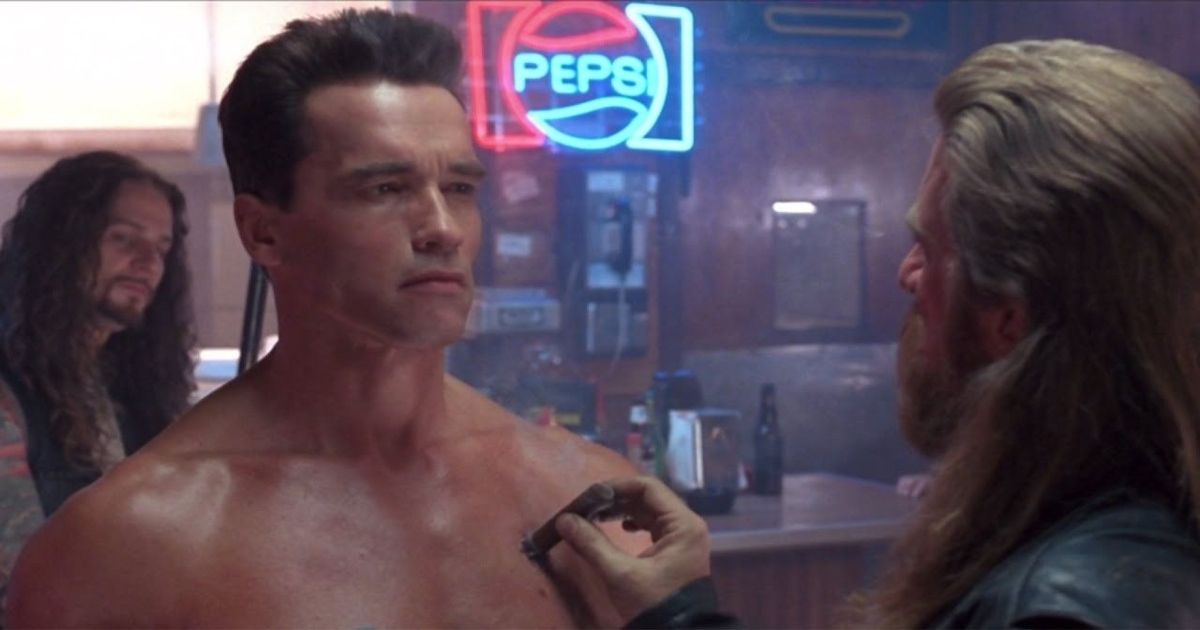 It's no wonder that Terminator 2: Judgment Day is often cited as the best film in the Terminator franchise – it is an action masterpiece brimming with many of the best moments in both James Cameron's and Schwarzenegger's careers. Schwarzenegger's first scene in the movie is one of his best ever: he arrives in Los Angeles circa 1992 and stomps into a biker bar in the nude. Completely oblivious to the bikers' laughs, he approaches a man and makes a demand: "Give me your clothes, your boots, and your motorcycle." This instigates a brawl in the barroom, which, of course, Schwarzenegger wins.
Related: Every James Cameron Movie, Ranked
2/16

DILLON! – Predator
Another great moment from Predator, and maybe one of the most quoted scenes in movie history, is when Schwarzenegger finds out that Dillon, an old army buddy of his, is leading the mission in Guatemala. Schwarzenegger steps in, sees his old pal, and exclaims "Dillon! You son of a [expletive]!" What follows is easily the manliest handshake ever filmed.
1/16

Hasta La vista, Baby – T2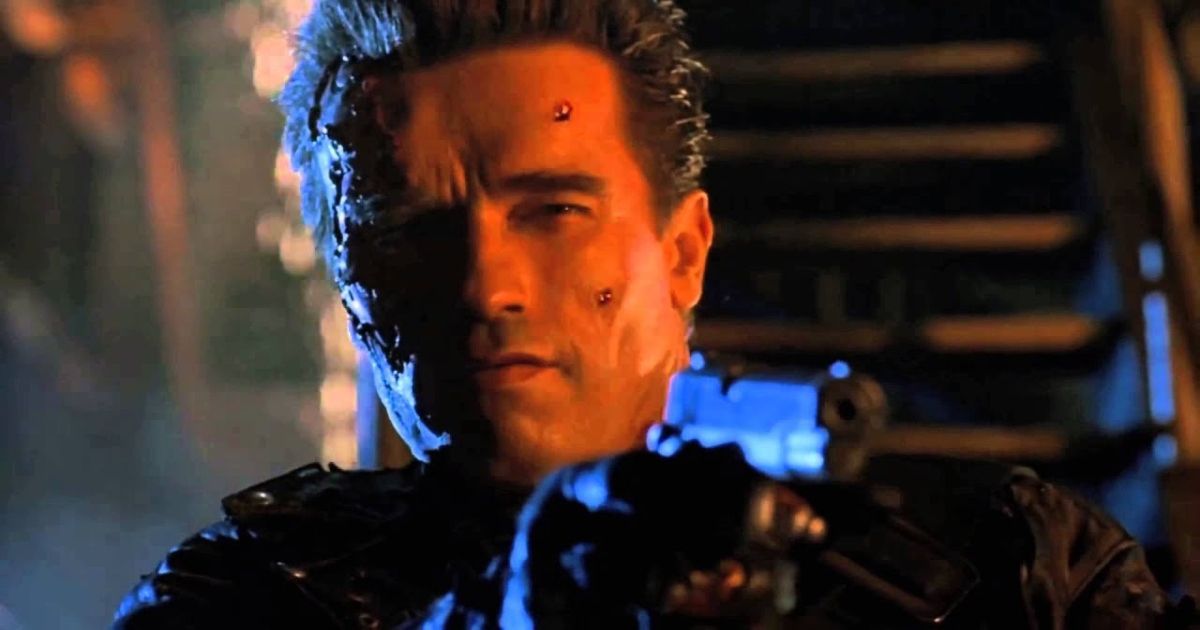 The best moment from Terminator 2 and quite possibly the most essential in all of Arnold Schwarzenegger's career is the scene in which Schwarzenegger manages to freeze the T-1000 with liquid nitrogen. Just before shooting the frozen Terminator and shattering him into a million pieces, Schwarzenegger says his most iconic one-liner of all time: "Hasta la vista, baby." This scene is awesome on its own, but works even better in context; Schwarzenegger's delivery of the line here is the gratifying pay-off to an earlier scene in which young John Connor teaches the Terminator an assortment of "cool" phrases.