Three local fashion creators have joined forces to fight fashion overconsumption. Their organization, Swap Omaha, utilizes an eco-friendly circular model designed to give back to the community.
Last year, Sami Harton sought out other women's fashion industries who would join her sustainability mission. Art Her Advocacy Through her group BFF Omaha, she met her owner of Scout Dry-Goods, Kelly Valentine-Newell, who came up with the idea for a clothing exchange for Earth Her Day.
Scout had been working with Earthday Omaha on the exchange the year before last. But due to COVID-19, those plans have been canceled, Valentine-Newell said. Soon after, sustainability advocate Lauren Bates joined the crew, wanting to involve the Green Omaha Coalition.
"One by one, we found our way to each other for Earth Day.
Their first swap event at Elmwood Park was part of Omaha's annual Earth Day celebrations.
"We expected maybe 20 people to attend, but ended up with over 100," says Valentine-Newell. "The line crossed the sidewalk and across the lawn, leading to other vendors in his space."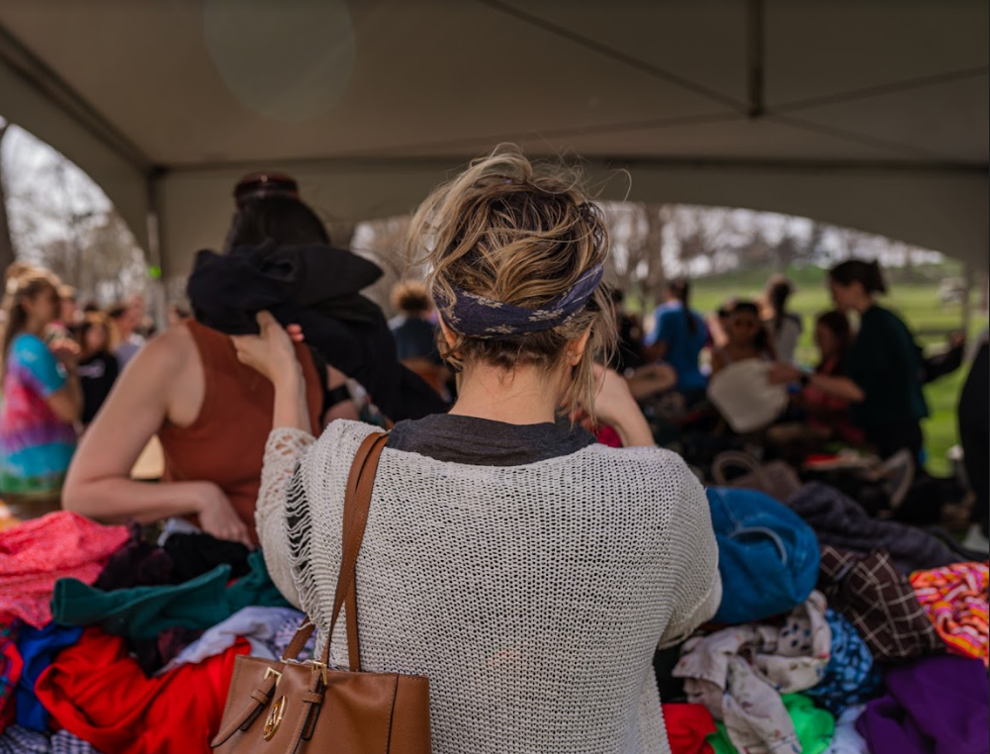 Participants and curious spectators asking when the next swap was, turned a one-off event into a replicable model.
"The backbone of Swap Omaha is to keep clothing out of landfills and create a circular economy by prioritizing clothing and accessibility," said Bates.
In 1970, the Environmental Protection Agency reported just under 2 million tons of landfilled textiles. In 2018, that number ballooned to 11 million tonnes.
"Reducing textile waste starts with reducing fast fashion consumption. To do that, we need to educate and standardize alternative ways of buying, selling and exchanging," said Valentine-Newell. increase.
Each event begins with a clothing drop-off, and those who donate receive their first dib and are entitled to receive one clothing item for each item of clothing donated.
After the donor has exchanged for new pieces, the unclaimed piles are released to the public for $1 each. A portion of the proceeds will be donated to local non-profit organizations.
In addition, all clothes not exchanged go to charities such as Open Door Mission, Heart Ministry Center and others with a "no kill" policy.
"We do not believe in shaming people into action. Instead, we believe in supporting, educating and providing people with the tools to shop more ethically and sustainably. "It starts with access to sustainable alternatives."
Organizations like Swap Omaha give you free wardrobe makeovers and give new life to unwanted clothing.
"We want people to have the mindset that just because an item doesn't work for me, it can work for someone else," says Hartong.
Last year's success has given us the motivation and confidence to improve and grow our organization.
"2023 will be the official reopening," said Hartong. "We want to become a non-profit organization and have more impact in our community."
Their next swap event will be different from previous swap events. Swap Omaha has partnered with local non-profits Filmstream and Omaha Fashion Guild to present 'Made in Bangladesh' on March 14th at 6pm. The event will feature an exchange of costumes and a panel discussing the film's message.
"The film is based on the true story of a garment worker and her daily struggles in Dhaka, Bangladesh," said Bates. "Dhaka is where the Rana Plaza collapse happened.
On April 24, 2013, more than 1,000 garment workers were killed when a factory building collapsed in Dhaka, Bangladesh. Known as the "Rana Plaza disaster," the tragedy was due to substandard safety standards and disregard for building codes in the fast fashion industry.
Best Omaha Staff Photos and Videos for January 2023