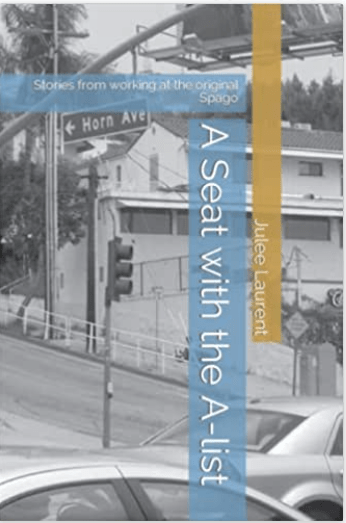 One of MoodyOn'theMarket.com has written a book! It will be unveiled at a reception later this month. Find out more here…and maybe see you at the "book release"!
Twin Cities author Julie Laurent will host a reception to release her second book, A Seat with the A-list, on Friday, January 27th in downtown St. Joseph. This book chronicles her time in her early '90s at her Spago restaurant in Los Angeles when she worked for Wolfgang Puck.
"There were a lot of stories when I worked at a restaurant where one of the greatest chefs of our generation had celebrities coming to their door every night," says Julie. "I wanted people to get a glimpse of what it's like to be in that environment where they live.
The book's stories include celebrities such as Sylvester Stallone, Bridget Neilson, Johnny Carson, Madonna, Whitney Houston, Donald Sutherland, and Dodi Fayed.
Also, under the constant pressure of working with high-profile Hollywood clients, he avoided revealing press leaks and outlined what it was like to protect celebrities from autograph seekers. Most of the time it's working for one of the most innovative chefs of our generation.
Julie remembers those days fondly.
"While there, I learned a lot about people and of course great food and wine. It showed me the pressure, but they just want to have some quiet time at dinner like everyone else. It was a great learning experience."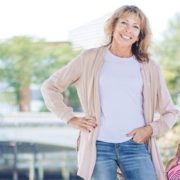 Julee Laurent is a mother of two who has been a freelance journalist for 20 years. This is her second book. The first is a children's book, Lola and Lazlo, which teaches children about collective nouns wrapped in the story of a little girl trying to find her missing puppy.
Julie has been published in Gannett Press Newpapers, Redbook, Marie Claire, Village Voice Media, Tribune News Papers, DiG Magazine, Censored Magazine, InReview and was a copywriter for Diesel Clothing and Coca-Cola. She currently writes locally as a contributing writer for MoodyOnTheMarket.com and owns a marketing company called Think Tank Marketing.
For more information on how to order the book, please visit juleelaurent.com or search on Amazon. Julie will have both books available in paperback at the January event. An electronic version is available on Amazon.
The January 27 book release reception at the Waterfront House of Framing and Fashion will also feature a St. Joe Today Chile Tour, featuring four restaurants (Happy Poochie, Dad's Farm, Soul's Ground Cafe and Full Circle Cafe). Music plays. by the band Second Story. Event is from 5pm to 8pm.