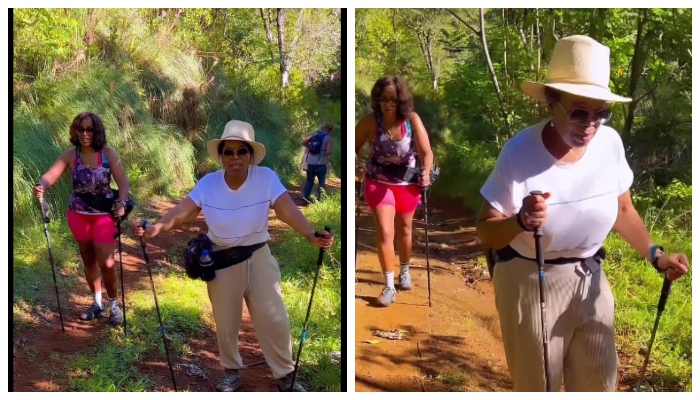 Oprah Winfrey is a very active social media user and goes to great lengths to impress her fans with amazing clips of her adventures.
Recently, the talk show host took advantage of her Instagram handle to post a relaxing travel video as she went on a hiking trip with longtime best friend Gayle King in Hawaii on Thursday afternoon.
After having both knees replaced last year, the TV personality, 68, was seen on a recent field trip wearing a white t-shirt with sheer black stripes and off-white sweatpants.
She complemented her casual look with a wide-brimmed hat, oversized sunglasses, and a black fanny pack.
Enjoying the fresh Aloha air, they both used walking sticks to climb the hills.
"Hey guys. It's my new passion, so today's another hike," Oprah said as she opens the clip with King.
Winfrey underwent two knee surgeries in late 2021. She then went through months of difficult rehab.
"So I've been hiking literally since March of this year," Oprah continued in the clip.
Gail and Oprah have been hiking a ton in the last week or so, and Winfrey has recorded many clips from their adventures earlier in the week.
As a way of saying goodbye to 2022 and saying goodbye to next year, the pair joined a group of friends for an end-of-year appreciation hike.