Other venues for entertainment, events and arts this weekend:
music: quartet concert
In Quartet — Robin Scott and Janet Ying, violin; Philip Ying, viola; David Ying, cello — for the Chamber Music Society of Little Rock, today at 7:30 pm, Trinity Episcopal Cathedral, 310 W. 17th St. ., playing in Little Rock. Program: String Quartet op.11 by Samuel Barber. "Southern Harmony" by Jennifer Higdon. "Agitato" by Billy Childs. Antonín Dvořák's String Quartet in G major op.106 will be followed by Meet the Musicians his reception with wine and snacks. Admission is $25, free for students. Visit ChambermusicLR.com/tickets.
met audition
Twenty-eight national and international singers will take the stage at noon on Saturday. Metropolitan Opera Lafon Competition, Arkansas District, Stella Boyle Smith Concert Hall, Fine Arts Building, University of Arkansas at Little Rock, 2801 S. University Ave., Little Rock. Admission is free.
There are 3 judges. Jane Claviter, prompter and assistant conductor of the Metropolitan Opera. Kathleen Kelly, Director of Music Studies at the Vienna State Opera. and Carol Freeman, an operatic tenor, director, and music educator who is credited with opera in Eureka Springs and Arkansas for her points of inspiration outside her theater.
The winners of two or three districts will advance to the Midwest Regional Convention on February 18 in Tulsa, where they will compete against winners from the Tulsa, St. Louis and Kansas City districts. The regional winners will compete in the national semi-finals on April 17th and the grand final concert on April 23rd on the stage of the Metropolitan Opera at Lincoln Center in New York City. The concert will be streamed live. Tickets are available at metopera.org.
The Metropolitan Opera National Council Auditions were started in 1954 to discover promising young opera singers and help develop their careers. Singers who got their start through auditions include Lenny Fleming, Susan Graham, Stephanie Bryce, Eric Owens, Lawrence Brownlee, Lisette Oropesa, Jamie Burton, Michael Fabiano, Anthony Roth Costanzo and Ryan Speed.・Includes Green and Nadine Sierra. In 2022, it was renamed the Metropolitan Opera Eric and Dominique Lafon Competition, recognizing a gift from the Lafon family.
theater: Sing "Cinderella"
A positive image of Christ is staged in collaboration with Helena West Helena's Central High School Rogers & Hammerstein's "Cinderella" Today and Friday at 7pm at the school at 103 School Road, West Helena. Tickets are $7 and students are $5. Call (501) 420-3704 or visit advanceministries.regfox.com/cinderella.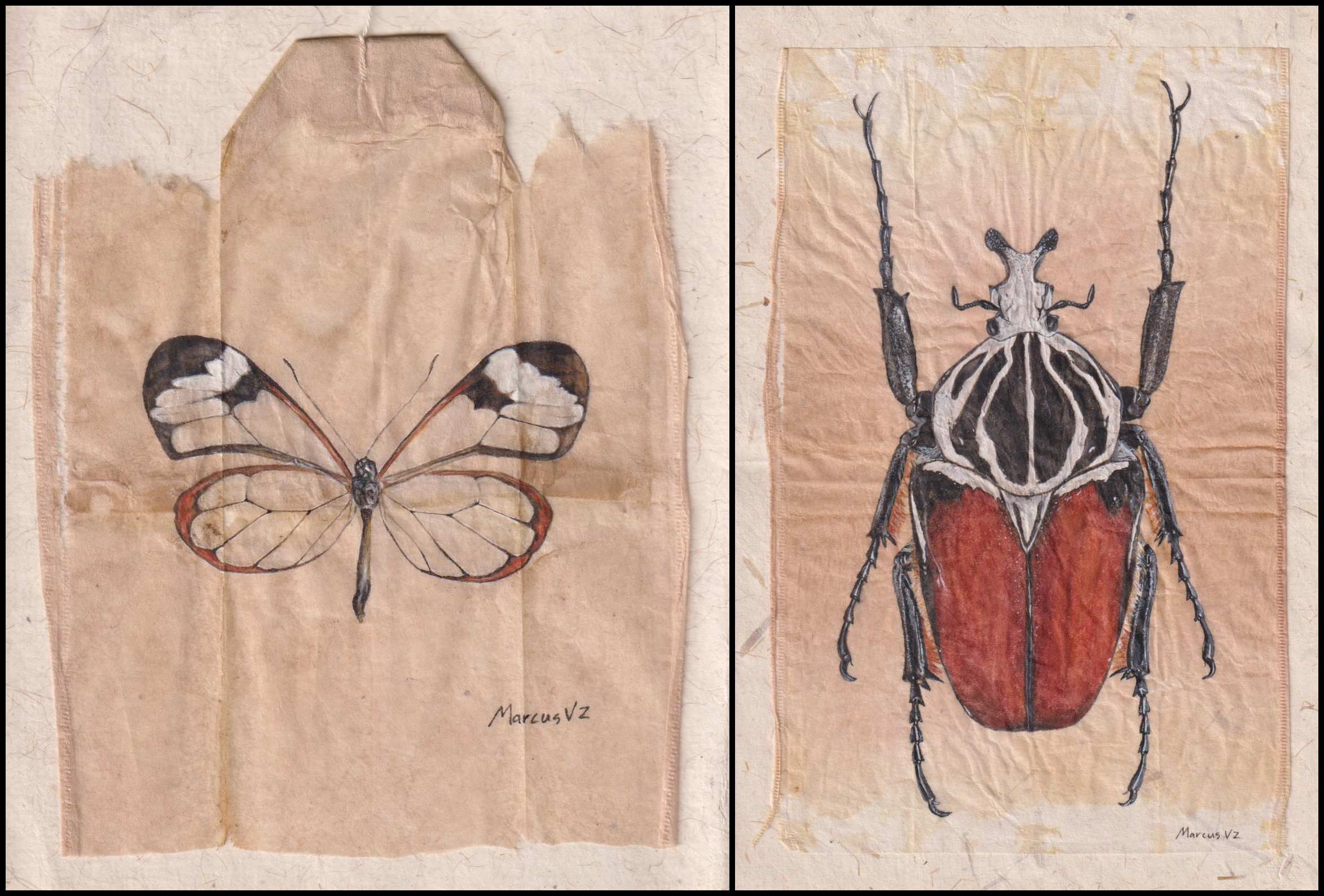 Marcus Vazquez's 'Glasswing Butterfly' and 'Goliath Beetle' are part of a 'specimen' exhibit starting Friday at the Argenta Library in North Little Rock. (Special to Democratic Gazette)
art: library display
"specimen" Watercolor paintings of various insects on tea bags by Marcus Vasquez from North Little Rock will be on display at the 3rd Friday Art Walk Reception from 5-8pm Fridays at Argenta Library, 420 Main Street, North Little Rock. will be exhibited at The exhibition runs until his February 10th. Gallery hours are 9 AM to 6 PM, Monday through Friday. Admission is free. Call (501) 687-1061 or visit NLRLibrary.org.
The Bradbury Art Museum at Arkansas State University's Fowler Center, 201 Olympic Drive, Jonesboro hosts two exhibitions today from 5-6:30 p.m.
◼️ "Moon Shine," photographed by ASU Assistant Professor of Arts Rachel Boylott, is "inspired by the musical heritage of Tennessee's Cumberland Plateau and explores the memories of female musicians in the Appalachian region," according to a news release. .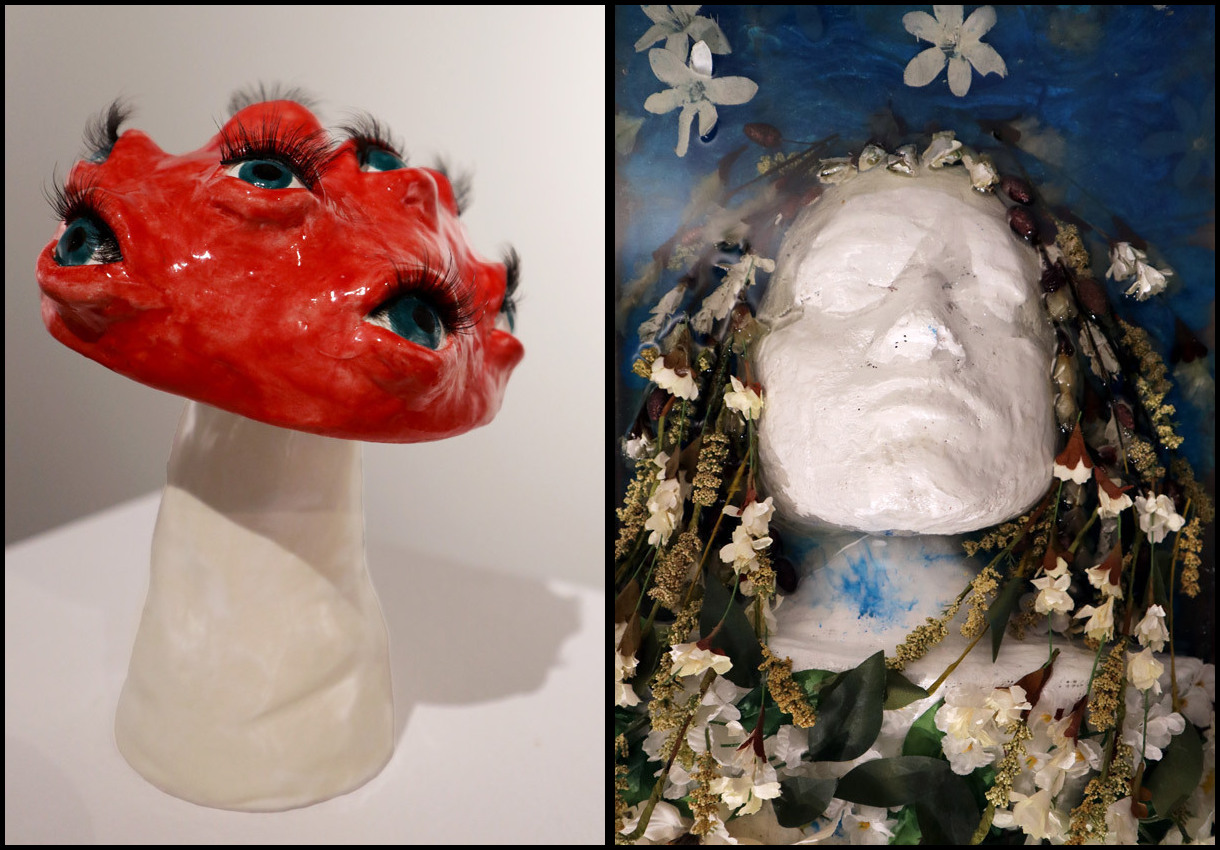 "I Can See You," a ceramic work by Jonesboro High School student Hayden Hobbs, and "Falling Ascension," a mixed media work by Harrisburg High School student Kayleigh Correa, are exhibited at the Bradbury Museum of Art at Arkansas State University. part of 8. (Special to Democratic Gazette)
◼️ "Inspired 8", 50 works by high school students from 10 regions. An annual competition exhibition in which students create works in response to what they see when they visit the museum, specifically 'people/places/things'. An exhibition exploring the concept of realism. Judge Stephanie H. Shih, a Brooklyn, New York-based artist whose work was included in "People / Places / Things" I chose.
Both exhibitions will run until February 8th. Hours of operation are Tuesday through Saturday from noon to 5 PM. Admission is free. Call (870) 972-3765 or email visitBAM@AState.edu.