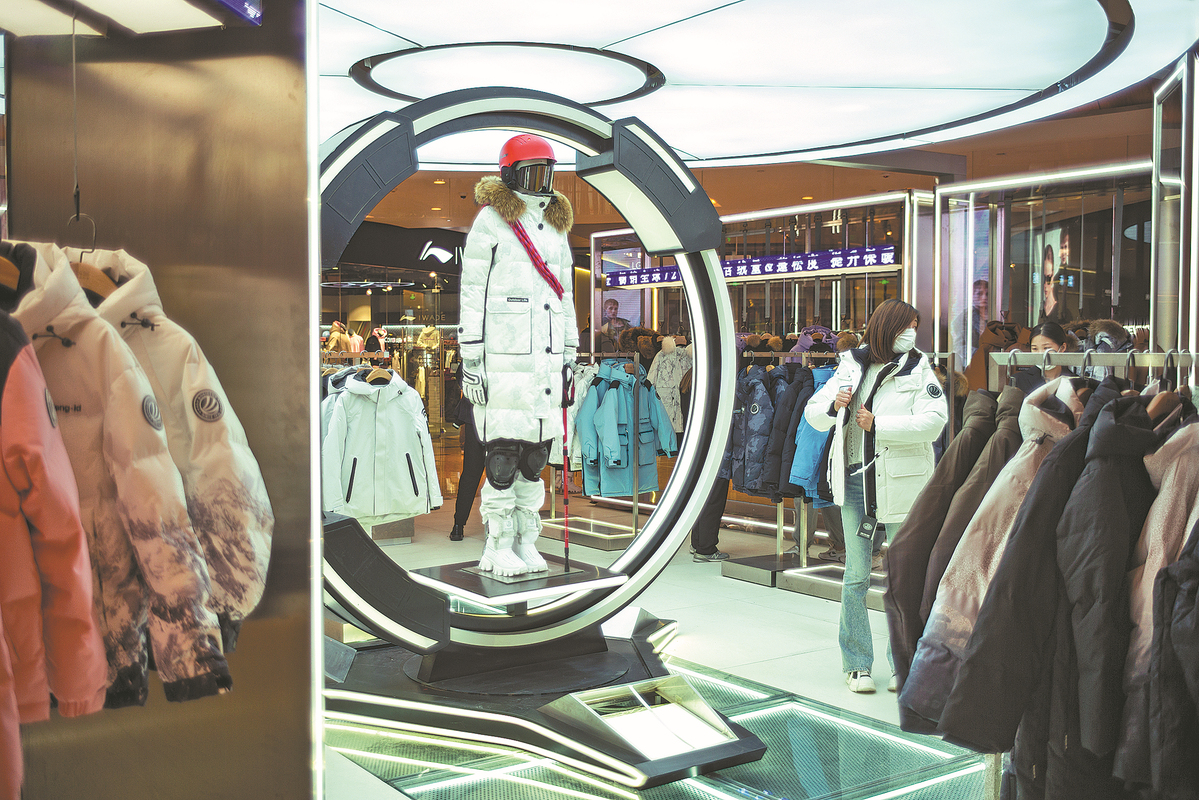 Cold spells in northern and western China have boosted down apparel sales, with major Chinese brands competing with international brands in terms of quality and innovation in the mid-range and high-end categories.
According to the National Climate Center, many regions in northern and western China will experience colder temperatures from December to next March than at the same time last year. This winter, southern China has also experienced more extreme cold spells than the previous season last year.
This has overheated the down clothing market, and the growing interest in outdoor activities among the younger generation has further spurred sales. China's down garment market will be valued at 156.2 billion yuan ($22.35 billion) in 2021, according to the China National Clothing Association. It is estimated to reach 162.2 billion yuan this year, with an average annual growth rate of 12.7% from 2016 to 2021, higher than the overall apparel market.
In a report on China's down apparel market outlook from 2019 to 2025, research arm Huaon.com found that the penetration rate of the down jacket segment in China is less than 10%, compared with 70% and 35% in Japan. is also much lower. This suggests more market potential in the coming years.
Meanwhile, new national standards for down apparel came into force in April. This included measures to optimize production and quality to better integrate the industry with international markets.
Under the new standards, low-quality products will not be allowed to enter the market, promoting better development of established large or medium-sized brands in terms of design, skills, technology and marketing. .
Lu Mei, deputy secretary general of the apparel department of the Jiangsu Industry and Commerce Federation, said the new standard has revolutionized the down apparel industry. "Small businesses that produce low-quality down garments will not survive due to the high cost of better feathers and fabrics," Lu said.
The country's leading down apparel companies are benefiting from both new standards and increased demand.At this year's Double 11 shopping festival at Tmall in November, Bosideng, the country's leading down apparel maker International Holdings Ltd ranked first with sales exceeding RMB 100 million in the first 10 minutes of sales.
According to Mktindex, Bosideng ranked first in Tmall's women's clothing category, with sales of 60.7 million yuan and an average transaction value of 1,540 yuan during the shopping festival.
From the first six months of the fiscal year to September 30, Bosideng Group generated revenue of 6.18 billion yuan, up 14.1% year-on-year, and profit increased by 15% to about 734.3 million yuan. I was. During the period, the revenue of the down apparel business segment, including Bosideng brand, increased by 10.2% year-on-year to about 3.86 billion yuan.
International brands continue to dominate the mid-range and high-end segments of the market. Earlier this year, the Winter Olympics brought Lululemon Athletica Inc's down garments to Chinese consumers. During the opening ceremony, the Canadian delegation entered the stadium wearing the brand.
Vivi Sun, a marketing executive in Beijing, purchased a lululemon down jacket shortly after watching the opening ceremony and has been a regular visitor to the Beijing lululemon store ever since.
"This brand has become a phenomenon," Sun said. "It used to be known among friends who practiced yoga. Now it's a mainstream brand and a frequent place to shop."
Lululemon added a line of thermal clothing and facilities this year to help runners and those who "move around" stay warm through the winter.
Veteran runner Oscar Wu, who took part in this year's Beijing Marathon, said during winter training he focuses on the facility so that he can maintain his body temperature while running. Apparel with windproof, lightweight and dry features can also improve athletic performance.This winter, Lululemon first developed the Wunder puff jacket for male consumers like Wu. .
In addition, Moose Knuckles has accelerated its expansion in China by adding new brick-and-mortar stores in China. China has become Canada Goose's largest market, despite a decline in Canada Goose's Asia Pacific sales in the second quarter of this year. Moncler recently opened a new flagship store in Beijing.
To appeal to young, environmentally conscious Chinese consumers, the Italian brand Max Mara is made from fibers that are naturally combed and blended with camel hair, so production has less impact on the environment. He said the court was introduced in a responsible manner to ensure Recycled polyester fibers are used to form an insulating and high performance pad.
With the rise of outdoor camping and frisbee activities in recent years, the popularity of outdoor down jackets as sportswear in China is increasing, and down wear for skiing and mountaineering has become a part of fashion.
Domestic brands are stepping up investment in innovation to catch up with foreign rivals and take advantage of the growing market potential. Bosideng has developed a light down apparel that balances warmth and comfort while the wearer is in motion. Lighter weight and more precise warming technology mark different positions on the jacket.
According to Bosideng, the light down apparel brand's innovations have helped extend peak sales seasons, making its products easier to sell among southern China and younger generations of consumers.