Was 2022 an extraordinarily profitable year for festivals, concerts and tours by bands and solo artists? An extraordinarily costly one? Or both? And with concerns about a possible recession or new COVID surge, what is the outlook for this new year?
The answers depend on who you ask about the past 12 months and what lies ahead. The past year saw some tours, venues and festivals enjoy record attendance. But others could not overcome inflation, skyrocketing production costs, supply-chain issues, staffing shortages and the continuing impact of the nearly 3-year-old COVID pandemic.
A number of superstar acts earned more than ever from their performances, including Elton John and Bad Bunny, both of whom did sold-out San Diego concerts at Petco Park. Their 2022 tours earned, respectively, $274 million and $393.3 million.
Other performers had more modest paydays. But some younger acts — and even some established ones — shortened or canceled their tours, citing daunting economic challenges and mental health issues.
"Unpredictability is the new normal," said Bartell Hotels President Richard Bartell, whose company owns and operates the 42-year-old Humphreys Concerts by the Bay series.
"It was a wild and bumpy year," agreed multiple Grammy Award-winning album producer Chris Goldsmith. As president of Belly Up Entertainment, he oversees operations and talent bookings at the Belly Up in Solana Beach, the Music Box in Little Italy and the soon-to-open Del Mar concert venue The Sound.
Record earnings for Live Nation
Both Humphreys and the Belly Up had banner years in 2022. So did Live Nation, the world's largest concert and live events producer, which in November reported record $12.3 billion in revenue for the first three quarters of 2022.
That was a dizzying jump of 43 percent over the 2019 earnings for Live Nation. The company owns and operates San Diego's North Island Credit Union Amphitheatre and House of Blues, in addition to exclusively booking concerts at SDSU's Viejas Arena and other area venues.
Between June 30 and Sept. 30, Live Nation reported, it staged more than 11,000 worldwide events that drew more than 44 million fans. Both totals are records.
But that success did not extend to such critically acclaimed artists as Santigold and Animal Collective — whose acclaimed debut albums came out in 2008 and 2000, respectively — or to San Diego troubadour Gregory Page, whose debut solo album was released in 1994.
Philadelphia-born singer-songwriter Santigold canceled her entire 2022 U.S. tour because of onerous travel and production costs, as well as health concerns.
"Gas, tour buses, hotels, and flight costs skyrocketed," she wrote in an October statement on her website. "Many of our tried-and-true venues (were) unavailable due to a flooded market of artists trying to book shows in the same cities, and positive (COVID) test results constantly halting schedules with devastating financial consequences. Some of us are finding ourselves simply unable to make it work."
October also saw Animal Collective, an experimental psychedelic-rock band formed in Baltimore in 1999, cancel its fall tour of Europe. This followed the cancellation of some the band's 2022 U.S. tour dates after three of its four members contracted COVID. Band co-founder Joshua Dibb is an Orange County native.
"Preparing for this (European) tour we were looking at an economic reality that simply does not work and is not sustainable," Animal Collective wrote on its Instagram page.
"From inflation to currency devaluation, to bloated shipping and transportation costs, and much much more, we simply could not make a budget for this tour that did not lose money even if everything went as well as it could…"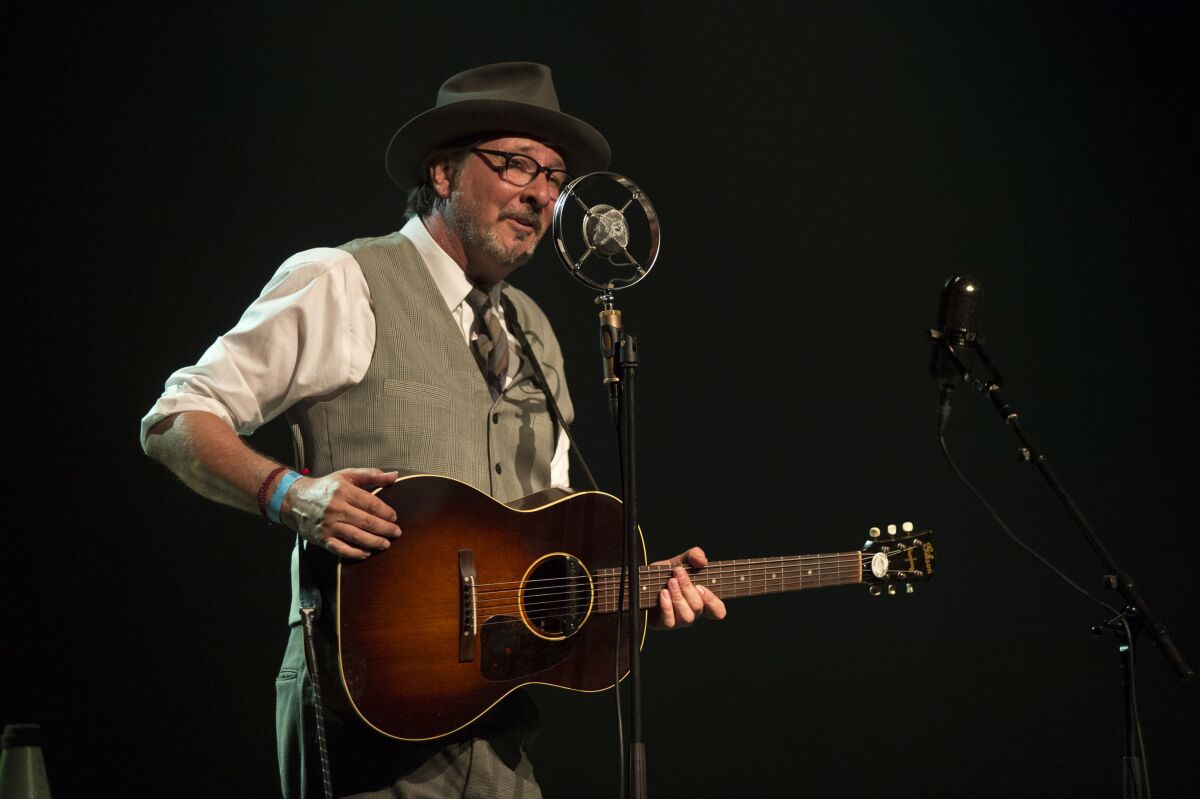 And October saw leading San Diego troubadour Gregory Page finally kick off his latest European tour — pushed back from 2020 and 2021 — only to contract COVID right after his opening concert in the Netherlands.
"I canceled a few shows," Page said. "Then I took antiviral medicine and tested negative but was still sick with bronchitis for the rest of my seven-week tour. I let all the promoters know I was ill and they didn't really care. It wasn't feasible for me to cancel the tour."
Award-winning San Diego blues-soul singer Whitney Shay made three trips to Europe to perform in 2022. Like Page, she also got ill.
"I got COVID two days after I came back from doing a festival in France in July," Shay said. "Unfortunately, it's a risk in our profession being around the public a lot. And every time there's a (pandemic) surge, there are still people who are understandably reticent to go out to concerts."
Festivals triumphed and faltered
Some multiday festivals vanished in 2022, some almost overnight, including Camp Flog Gnaw in Los Angeles and Nevada's Day N Vegas. Other festivals had record or near-record years, including Coachella, which resumed — after being postponed because of the pandemic in 2020 and 2021 — and once again drew a sold-out crowd, over two consecutive weekends, of 750,000.
But the cost of producing festivals and individual concerts increased across the board, sometimes at dizzying rates.
This applied to free events, such as the two-day 2022 Adams Avenue Street Fair, and to for-profit events, such as San Diego's three-day Wonderfront Music & Arts Festival.
"Before we canceled our 2021 street fair, we paid $12,000 for (renting) five stages. This year, it costs $24,500 for four stages," said Scott Kessler, the head of the Adams Avenue Business Association.
"Band fees have increased, our port-a-potty rental fees have doubled and the price we're paying for everything has gone up. Everyone's been out of business for two years, so how can you fault them? Our board voted to lose money on the event this year and not to cancel it. We made the right decision."
For Wonderfront, whose high-priced 2022 headliners included Gwen Stefani and the Zac Brown Band, production cost rises were considerably more steep.
"Everything is more expensive this year — labor, equipment rentals, you name it — not 30 percent higher, but 300 percent higher, in some cases," said Paul Thornton, a co-producer of the festival. "I've never seen anything like it in my three decades of producing music events."
Wonderfront debuted in 2019 but was stilled the next two years by the pandemic. Its welcome return in 2022 was marred by the dramatic increase in production costs, a loss of momentum after being dormant for so long and a corresponding drop in attendance. The rule of thumb for new festivals is that it typically takes about three to five years to become profitable, as was the case for Coachella.
"The prices for headline talent for festivals have gone nuclear," said Belly Up Entertainment's Goldsmith.
"An act that might have been paid $1 million per show before the pandemic now gets $2 million. That's not inflation; that's because of demand from so many competing festivals. But prices are up on everything — labor costs, alcohol, food."
Some concert venues and clubs in San Diego and elsewhere struggled or even went under, including Martinis (formerly Martinis on Fourth), which closed in November. The list of closures also includes Lestat's West Kava Lounge, SDCP and Bar Pink. Meanwhile, other clubs thrived.
Ticket prices 'way higher'
The only constant seemed to be that there was no constant. In some instances, the pluses and minuses were mirror images of each other.
Music fans had more concert and festival options than ever, to both their benefit and detriment, as the national median price for concert tickets jumped to $103.71 in 2022, a 19 percent increase over 2019, according to leading concert industry publication Pollstar.
The cost of admission also jumped at small venues like the 200-capacity Casbah, San Diego's legendary alternative-rock club. It opened in 1993 and hosted such bands as Nirvana, The Killers, No Doubt and Smashing Pumpkins when they were all still cult acts.
"We had pretty good attendance in 2022, but expenses have gone up on all fronts and we haven't raised our drink prices," said Casbah co-owner Tim Mays.
"Ticket prices are way higher — artists are getting paid more — and we're not doing as much walk-up (ticket sales) at the door as we used to. The dollar only spreads so far and people's incomes haven't risen as much as the costs of putting on shows.
"Known bands used to ask for $10 to $12 per ticket. Now, $15 is the low end and a lot of bands want to charge $18 or $20 because it costs so much more to be on the road. And if a band gets COVID or loses a well-paying anchor date in L.A. or San Francisco — which is their big payday — it can force them to cancel the whole tour."
Belly Up Entertainment honcho Goldsmith concurred.
"There were a lot more (performance) cancellations than we saw in pre-pandemic times," he said. "And there were a lot more challenging business negotiations on how to deal with possible cancellations because of COVID.
"That was offset by the real appetite people have to hear bands and solo artists perform live. We had a great year, probably equivalent to 2019, in terms of attendance and the artists we presented.
Humphreys owner Bartell noted that his 1,450-capacity venue's production costs went up "modestly" in 2022, by about 10 percent to 15 percent.
"It was a great year to be in the concert business — it was concerts on steroids," Bartell said.
"The pent-up demand to see concerts set concert attendance records for Humphreys. We had our highest median ticket sales per show, we did the greatest number of shows we have ever done in a season — 88 — and had the highest overall attendance in our history, over 100,000."
Other San Diego area live-music companies also enjoyed profitable years in 2022.
'An extremely crazy year'
"For us, 2022 was unlike anything anyone could ever have predicted — business for our company was up 129 percent and we added 75 employees," said Steven Q. Evans, the founder and head of Show Imaging. His company oversees project management, design and technology for such recurring San Diego music events as CRSSD Festival and Boots in the Park, as well as for the San Diego Convention Center, Petco Park, Montana's Under The Sky festival and more.
"It was an extremely crazy year," Evans said. "It seemed like anybody and everybody who wanted to tour in 2022 did."
That contention was also evidenced by how well Sound Talent Group did in 2022. The Gillespie Field-based company represents such diverse bands as Run-D.M.C., Mexican vocal star Natalia Lafourcade, Guns N' Roses co-founder Duff McKagan, and Puerto Rican hip-hop duo Calle 13.
"Our 2022 was great," Sound Talent co-founder Dave Shapiro said. "We had pretty much every single band on our roster touring, about 300 altogether, which is very rare. Basically, a lot of these bands were trying to make up for lost time because they hadn't been able to tour for a couple of years.
"So, it was great for us, although it obviously came with challenges — not only with expenses increasing but with limited access to touring resources. Bands has enormous trouble finding road crews, because a lot of veteran crew people found other jobs during the shutdown and didn't come back.
"We had several tours that nearly canceled in 2022 because we couldn't find tour buses. In terms of attendance, things were all over the board, depending on the genre of music and the market. Venue availability was a problem because so many acts were on the road at the same time."
All told, for live music 2022 was a roller coaster ride of dizzying highs and shuddering lows that can be credited and blamed — at least in part — on the pandemic's ripple effects. Forecasts for 2023 range from guarded to optimistic, although most of the people interviewed for this article believe 2022's glut of tours will level off this year.
"Many of us are contemplating what a recession might look like and how it might affect the music industry, so we're being very cautious," said Show Imaging's Evans.
"There are so many unknowns and new (COVID) strains that could pop up," mused Sound Talent Agency's Shapiro. "My hope is things get back to somewhat normal."
"Everyone," concluded Humphreys owner Bartell, "has to navigate, adjust and pivot. That's what we do. I don't think there will be a recession in 2023. But we've lived through recessions before at Humphreys and those were often our best years."
Concert costs, by the numbers
How much did expenses rise to produce live-music events in 2022? Here are some examples.
A roll of heavy-duty electrical tape: $19.99 (up from $17.79 in 2019)
Average hourly pay for a private security guard: $29.50 (up from $23.50 in 2019)
Daily rental for single speaker for outdoor festival audio system: $450-$600 (up from $150-$200 per day in 2019; the price increase reflects demand being so high that speakers now must be rented for multiple days, even if needed only for one)
Daily 5K forklift rental: $500 (up from $350 in 2019)
Weekly tour bus rental: $10,000 (up from $5,000 in 2019)
Cost of shipping a 40-foot container with LED lights from China: $21,000 (up from $2,000 in 2019)
Touring lighting board console purchase price: $60,480 (up from $48,988 in 2021)
george.varga@sduniontribune.com