Culture
The Factory opens in Manchester
Manchester is set to open a whopping new cultural hub in June: Factory International builds on the success of the Manchester international festival, with its team programming global artists all year round in a shiny new venue on the site of the former Granada TV studios.
Initially set to open in 2019, the venue, designed by Ellen van Loon of Office for Metropolitan Architecture, has ended up costing more than £210m, with funding largely from the public purse. But inside the fractal metal box are a hugely flexible series of spaces, which can be reconfigured to host everything from intimate plays to massive installations to live concerts. Its central warehouse is 65 metres long and 21 metres high – that's four double-decker buses worth of headspace – and holds up to 5,000 people.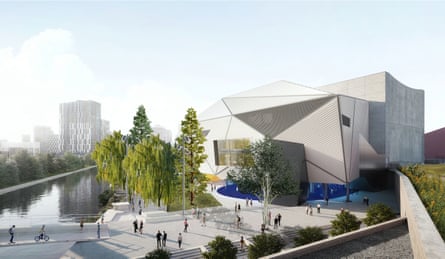 And opening seasons don't get much more high profile: The Factory hosts Yayoi Kusama's largest ever installation, You, Me and the Balloons, in which the Japanese artist will fill the venue with her psychedelic, polka-dotted inflatables, some more than 10 metres high (29 June to 28 August).
October sees a large-scale, immersive adaptation of The Matrix directed by Danny Boyle. Free Your Mind is written by Sabrina Mahfouz, with music and choreography from Michael "Mikey J" Asante and Kenrick "H2O" Sandy of Boy Blue and giant sculptural sets from Es Devlin. Hundreds of Manchester residents will perform alongside professionals to recreate some of the film's most famous moments. Holly Williams
Music
Beyoncé, Lizzo and Taylor Swift tours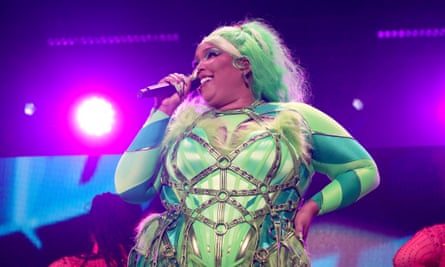 It will be a colossal year for tours by music's most formidable women. Rapper and flautist Lizzo's world tour will reach the UK on 8 March at Glasgow's OVO Hydro and will wrap up at London's O2 Arena on 16 March. She'll be joined by Feet Don't Fail Me Now singer-songwriter Joy Crookes during her UK dates.
Taylor Swift's The Eras Tour has been the centre of debate in the US after ticket sales were suspended due to high demand. International dates are yet to be released, but the concert will cover her entire career. Swift has released four albums since her 2017 Reputation tour, including 2022's Midnights, which claimed all top 10 spots on the Billboard Hot 100 in September.
Beyoncé is set to tour her critically acclaimed escapist house and disco party album Renaissance next summer. Given that it's been five years since her famous "Beychella" performance, the Renaissance Tour will probably be another blockbuster event. Kadish Morris
Film
The Fabelmans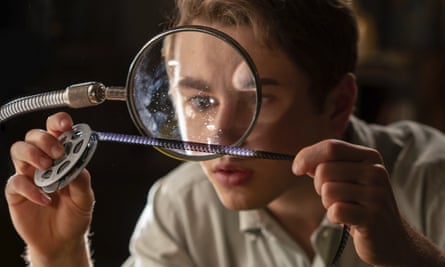 It's certainly Steven Spielberg's most personal film to date. And arguably it's one of his very best. The Fabelmans (released 27 January) is based closely on Spielberg's childhood as a film-obsessed youngster growing up in post-second world war Arizona. Sammy Fabelman – Spielberg's alter ego in this drama, which spans a decade and a half – falls hard for cinema after his parents take him to see The Greatest Show on Earth. It's not, they realise too late, an age-appropriate introduction to movies. But the fact that it's a slightly traumatic experience only makes the illicit thrill of cinema more exciting for Sammy, who is soon staging his own disaster flicks using a Super 8 camera and his toy train set.
Cinema, for Sammy, is a means of finding a voice. It's also the way that he discovers and processes a family secret that will lead to the breakdown of his parents' marriage. But despite the backdrop of domestic trauma, Spielberg fills the picture with tenderness and warmth. Wendy Ide
TV
Bestsellers on screen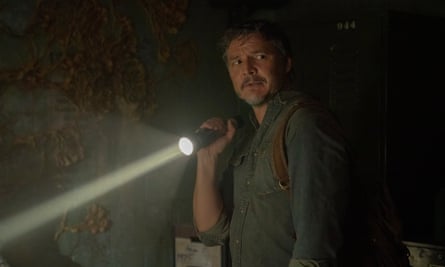 A host of eagerly awaited adaptations are coming to the small screen – but they're not all based on books. The Last of Us (16 January on Sky Atlantic) is a post-apocalyptic epic inspired by the popular video game. Written by Chernobyl's Craig Mazin, it stars Pedro Pascal as a hardened smuggler hired to escort Bella Ramsey's troubled teen out of a quarantine zone and across the US, 20 years after the destruction of modern civilisation. A strong ensemble cast includes Gabriel Luna, Anna Torv, Merle Dandridge, Nick Offerman and White Lotus suitcase-squatter Murray Bartlett.
As for literary reworkings, journalist Taffy Brodesser-Akner has adapted her own bestseller Fleishman Is in Trouble into a quip-smart dissection of a broken marriage (22 February on Disney+). Jesse Eisenberg and Claire Danes star as the New York divorcees, but it's the supporting pair of Adam Brody and Lizzy Caplan who steal the show.
Landing shortly afterwards is The Power (March on Amazon Prime Video), a globe-trotting blockbuster based on Naomi Alderman's dystopian feminist sci-fi novel. When women worldwide develop the ability to electrocute people with their fingers, it leads to them becoming the dominant sex. High-voltage thrills ensue. Michael Hogan
Art
Sarah Lucas at Tate Britain, and more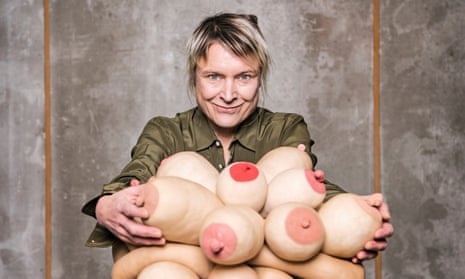 A big year for Sarah Lucas, with a solo show at Tate Britain (26 September to 14 January 2024), featuring her brash, bold and provocative art all the way from the YBA stuffed-figure era to the sculptures and photographs of the present day. And even bigger, in a sense, is the show Lucas is curating for Firstsite Colchester (11 February to 18 June), abruptly titled Big Woman. One in the eye for an ageist, male-centred world, this anthology features works by leading female artists, including Angela Bulloch, Polly Morgan, Georgina Starr, Gillian Wearing and Lucas herself. Laura Cumming
Theatre
Musicals on stage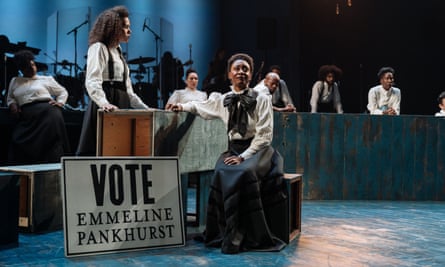 The year sees a bounty of theatrical song. In January, the new hip-hop musical Sylvia, celebrating the suffragette movement and the life of Sylvia Pankhurst, will open at London's Old Vic, starring Beverley Knight and Sharon Rose. Nicholas Hytner's production of Guys and Dolls is due to rock the boat in March at the Bridge in London, where seats will be wrapped around the action so that the audience is transported from Manhattan sidewalks to Havana bars. It is spiffing news that Operation Mincemeat, SpitLip's sparkling spoof of British intelligence manoeuvres, with a finely varied score and top-notch lyrics, will transfer to London's Fortune theatre from 29 March.
There are further welcome West End transfers for Oklahoma!, sold out at the Young Vic last spring, which opens at Wyndhams in February, and for Standing at the Sky's Edge, Chris Bush and Richard Hawley's soaring hymn to Sheffield, which reruns in the city in the new year and moves to the National in February. After a warm-up in Cheltenham, Rachel Kavanaugh's production of Great British Bakeoff – the Musical opens at London's Noël Coward in February.
Meanwhile, early in the new year, John Tiffany, director of Harry Potter and the Cursed Child and Let the Right One in , will be workshopping Wild Rose, based on the 2018 movie, and aiming to put on a production in Scotland in 2024. Susannah Clapp
Classical
Sergei Rachmaninov's 150th anniversary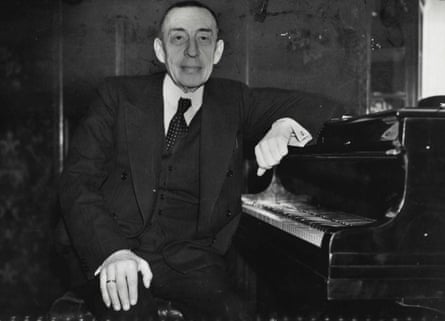 Stand by for a flood of concerts across the UK marking the 150th anniversary of the great Russian composer's birth – some 50 events between January and June alone. Widely regarded as one of the last representatives of Romanticism in classical music, Rachmaninov left his homeland in the 1917 revolution and spent the second half of his life in American exile, dying in Hollywood. His highly charged piano concertos made his music hugely popular (not least after No 2 became the soundtrack of Brief Encounter). Some highlights include Tenebrae singing his All-Night Vespers at St Martin-in-the-Fields, London (26 January), Benjamin Grosvenor playing the second piano concerto at Philharmonic Hall, Liverpool (9 February) and John Wilson conducting the Symphonic Dances, Caird Hall, Dundee and Usher Hall, Edinburgh (9, 10 March). Stephen Pritchard
Music
Hot albums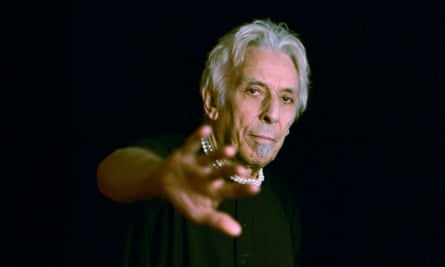 There's nothing low key about the long month of January if it has a new Sam Smith album in it. The UK superstar's fourth outing – Gloria – was heralded by their eighth No 1 single, the outre fanfare Unholy; Gloria aims to be Smith's "boldest statement yet".
Fresh from his supporting role on last year's revelatory Lou Reed demos, the venerable Welsh avant gardesman John Cale continues to surprise at 80, with the release of his first album of new songs in a decade. Weyes Blood, Actress and Fat White Family are just three of the questing spirits guesting on Mercy, also out this month. Cale's tour has been rescheduled once again, for February.
Against the "heavy, heavy" weight of the world, Scots outliers Young Fathers muster rhythm, melody and a reinvigorated, back-to-basics approach. Their fourth album – Heavy Heavy – boasts their most cogent tunes yet and "lets out the demons" in full in February.
Two of 2023's most awaited albums don't yet have firm dates attached; anticipation for them can only build. Absent from the release schedules since long-ago 2016, PJ Harvey follows her epic poem of 2022, Orlam, with new music, expected in the summer. Recent years have seen Harvey take up soundtrack work for TV – The Virtues, Bad Sisters – so it's fair to expect a widened sound palette from the two-time Mercury prize winner.
South London rapper Enny impressed with her 2020 debut EP and last year furthered her reach with the theme tune to All Or Nothing, the Arsenal documentary. A new track, Champagne Problems, paves the way for a forthcoming project, hotly expected in 2023. Kitty Empire
Art
Philip Guston revisited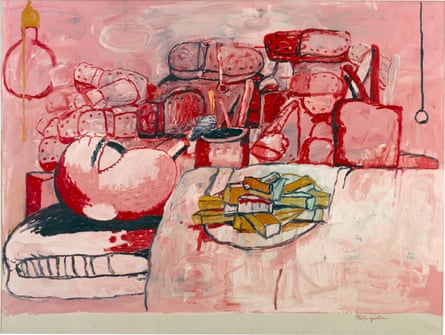 The postponement of this colossal touring survey caused international uproar in 2020 when four museums, including the Tate in London, decided that Guston's imagery of coarse and lumpen Klansmen was too "painful" for our times. The Tate's own curator was suspended for speaking out against the patronising assumption that the public couldn't see how mordant these paintings are. But soon we will be able to make up our own minds with a show at Tate Modern, London, which includes some of Guston's greatest tragicomedies of American existence, along with the famous self-portraits (from 5 October to 25 February 2024). LC
Dance
Pam Tanowitz at the Royal Opera House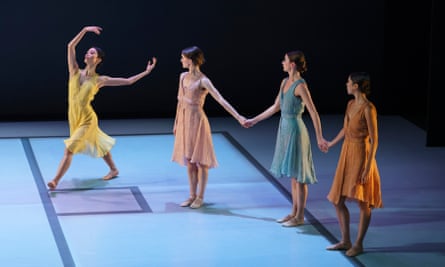 Pam Tanowitz's Everyone Keeps Me, to a string quartet by Ted Hearne, was one of the most luminous, mysterious and satisfying recent creations for the dancers of the Royal Ballet. The American choreographer now expands the piece into a full evening, adding a new work to another string quartet, this time by British-born but New York-based composer Anna Clyne. With her thoughtful gift for bringing out the best in dancers and her choreographic originality, it's sure to be both beautiful and revealing (Linbury theatre, Royal Opera House, 4-16 February). Sarah Crompton
Film
Justice-themed movies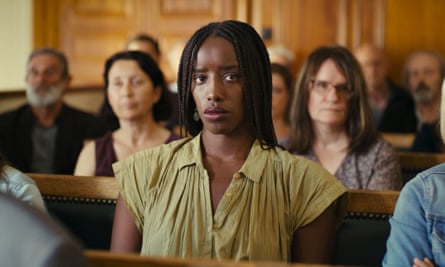 At times of uncertainty – and are we not permanently in uncertain times? – there is reassurance to be found in stories in which justice is seen to be done. The core idea of wrongs addressed and crimes called to account links several of the new year's strongest film releases. Of these, Todd Field's sublime morality tale Tár (13 January) is the highest profile. Cate Blanchett deploys the full extent of her huge charisma as Lydia Tár, a celebrated, world-class conductor who is gradually undone by her own predatory narcissism.
Both Sarah Polley's Women Talking (10 February) and Alice Diop's Saint Omer (3 February) are, in a way, courtroom dramas, although only the latter actually takes place in a court. Polley's film unfolds, instead, in a hay loft, where a group of women debate the path forward following the revelations of widespread sexual abuse within their isolated Mennonite community. It's utterly compelling, as is Diop's very moving account of a woman observing the trial of a mother accused of murdering her baby.
Real-life stories of justice have a particular potency: Laura Poitras's galvanising documentary All the Beauty and the Bloodshed (27 January) weaves a portrait of the photographer Nan Goldin with an account of her David v Goliath campaign against the Sackler family's art world reputation laundering. But justice is only as effective as the society it serves, as Ali Abbasi's fact-based Iranian serial killer picture Holy Spider (20 January) makes clear. A man is tried for the murders of a string of sex workers in the city of Mashhad. But in the eyes of the religious ultra-conservatives, he is viewed as a hero, guilty of nothing more than "cleansing the streets of sin". WI
Music
Pulp and Blur reunions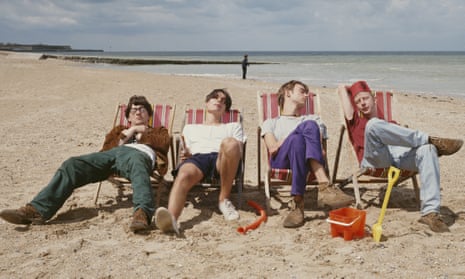 Reunions are big business and this year there is a Britpop theme to proceedings, with bands getting back together to reminisce on 90s "Cool Britannia" with pop-driven melodies and sartorial flair.
Synth-fuelled Common People writers Pulp are among those reuniting – for the second time since 2011 and now without original bassist Steve Mackey – to embark on a UK tour beginning on 26 May in Bridlington and carrying on through the summer, playing at festivals including Glasgow's TRNSMT (7 July) and Suffolk's Latitude (20-23 July). Oasis rivals and emblems of disaffected youth Blur are also reuniting to celebrate their 35th anniversary, for their first shows since 2015's Hong Kong-inspired album The Magic Whip. The four-piece play Dublin's Malahide Castle on 24 June before two huge homecoming shows at London's Wembley Stadium (8-9 July), featuring support from Slowthai and Self Esteem. Ammar Kalia
TV
The return of Succession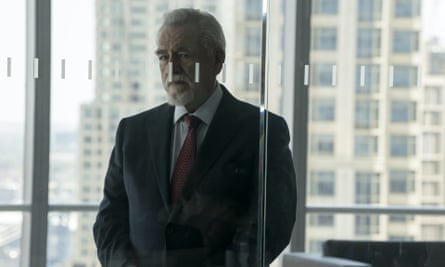 When we last saw the dysfunctional Roy dynasty, the family was at war. Again. The "rebel alliance" of Kendall, Shiv and Roman found their plan for a hostile takeover of Waystar Royco scuppered by Shiv's turncoat husband, Tom, tipping off patriarch Logan (Brian Cox). It's all beautifully poised for spring's fourth season, which includes a Scandi interlude at the mountain lair of tech bro Lukas Matsson (Alexander Skarsgård).
Come autumn, Cox returns to the UK stage for the first time in eight years. The Emmy winner takes on the role of Johann Sebastian Bach in the world premiere of Oliver Cotton's play The Score, directed by Trevor Nunn (12 October at Theatre Royal, Bath). Cox will also play fading performer James Tyrone in a new production of Eugene O'Neill's play Long Day's Journey into Night, directed by Jeremy Herrin. Dates to be announced. MH
Theatre
Ancient Greek classics reimagined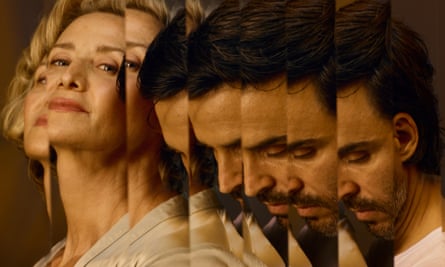 Greek drama has time and again illuminated 21st-century anguish. In February, two powerful actors seize the stage in mighty classical roles. Sophie Okonedo will appear at @sohoplace as Medea, with Ben Daniels, who will take on all the male parts. Euripides's play will be directed by Dominic Cooke, who has described it as a battle between "archetypal male and female ideas of power" and as being defined by the actor who plays the title role. At the Lyttelton, Janet McTeer will star as Phaedra, while Assaad Bouab from Call My Agent will make his British stage debut. Simon Stone, whose remaking of Lorca's Yerma galvanised the Young Vic, has created a new drama that draws on Seneca, Racine and Euripides. SCl
Photography
Centre for British Photography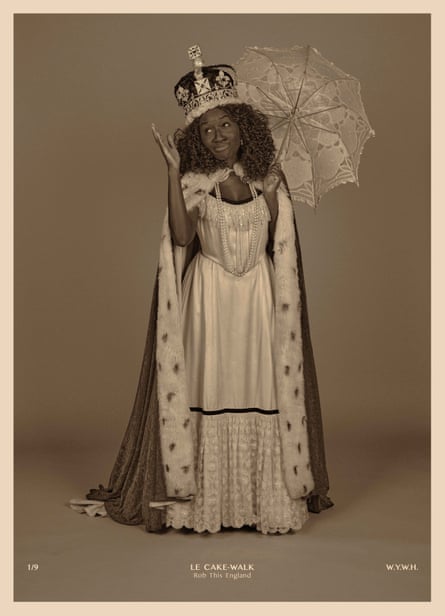 The Centre for British Photography opens its doors in Piccadilly, London, later this month, promising, in the words of its director, James Hyman, to be "a hub that increases British photography's national and international status". Three floors of exhibition space will draw predominantly on Hyman's extensive collection of more than 3,000 works by around 100 renowned British photographers, including Bill Brandt, Bert Hardy, Jo Spence and Daniel Meadows.
The centre will also host events and talks, with a strong emphasis on inclusivity and diversity. Opening exhibitions include The English at Home, featuring work by Martin Parr, Anna Fox, Richard Billingham and others, as well as a show co-curated by the campaign group Fast Forward: Women in Photography. One of British photography's rising stars, Heather Agyepong, will also present her series Wish You Were Here, which merges staged portraiture and performance to address the cultural resonance of the subversive African American vaudeville performer Aida Overton Walker. Sean O'Hagan
Classical
New opera productions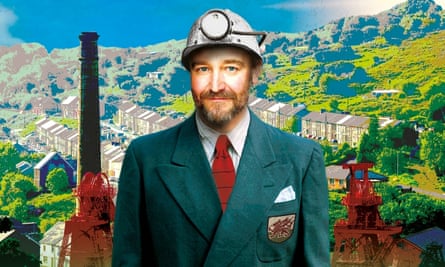 Two companies hit by devastating funding cuts deserve support for defiant, bold new productions in 2023. A group of 1950s miners reform their male voice choir, celebrating the land of song and triumphing over adversity in Welsh National Opera's world premiere of David Hackbridge Johnson and Emma Jenkins's Blaze of Glory! (starts Cardiff and tours Llandudno, Liverpool, Milton Keynes, Bristol, Birmingham, Southampton, 23 February to 20 May). At the London Coliseum, English National Opera stages Wagner's The Rhinegold, part of its current Richard Jones Ring Cycle (18 February to 10 March), followed by a cult classic, Korngold's The Dead City (25 March to 8 April). Past and present blur when a man haunted by visions of his dead wife meets her doppelganger. SPr
Film
Greta Gerwig's star-studded Barbie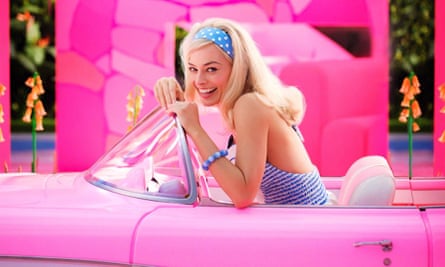 On the face of it, a Barbie movie sounds like Hollywood IP barrel-scraping at its most cynical and capitalistic, so it speaks to the power of Greta Gerwig that it is one of 2023's most curiously awaited films. One can only assume the director of Lady Bird and the cleverly retooled Little Women has playful plans for the doll's first live-action feature. Candy-coloured snaps from the set, showing a fabulously costumed Margot Robbie and Ryan Gosling seemingly having a ball, suggest a witty, high-irony approach, but will Gerwig also humanise the plastic princess? Let's see. In cinemas 21 July. Guy Lodge
Dance
Wayne McGregor's The Dark Crystal: Odyssey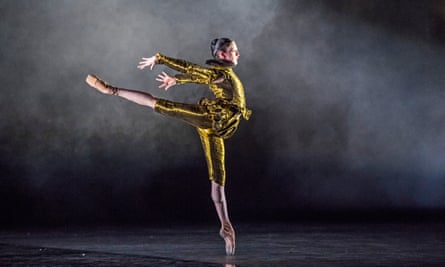 Wayne McGregor's myth-making show, inspired by Jim Henson's fantasy film of 1982, finally gets its pandemic-postponed premiere (Linbury theatre, Royal Opera House, 13 May to 4 June) in the midst of an extraordinarily busy year for the Royal Ballet's resident choreographer. This mythical coming-of-age story is for his own Company Wayne McGregor and collaborators include Henson's Creature Shop. It follows a revival on the main stage of Woolf Works (1 March), his three-act ballet about the life and writings of Virginia Woolf, and precedes the world premiere of Carmen Herrera (9 June), which features the work of the eponymous late Cuban-American artist. SCr
TV
Top British writer-directors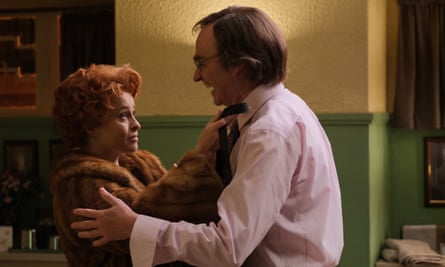 The new year brings new creations from a trio of homegrown TV heavy-hitters. Russell T Davies returns with eccentric three-parter Nolly (February on ITVX), starring Helena Bonham Carter as Crossroads actor Noele Gordon, who was sacked from the soap opera at the peak of her fame. Davies is destined to have a busy 2023; in November, he retakes the reins of Doctor Who in time for the sci-fi institution's 60th anniversary.
Shane Meadows's new creation marks a pair of firsts for the Midlands auteur: his first period drama and his first series for the BBC. Based on Benjamin Myers's novel, The Gallows Pole (BBC One, date TBC) fictionalises the anarchic true story of the Cragg Vale Coiners, who attempted the biggest fraud in British history by counterfeiting gold coins in 18th-century Yorkshire.
Screenwriter Steven Knight, of Peaky Blinders and SAS: Rogue Heroes, is more accustomed to plundering the past and now returns to home turf in Birmingham. Two Tone (BBC One, date TBC) is a passion project drama about the city's ska scene during the late 70s and early 80s. Expect a pacy portrait of Thatcher-era Britain. Safe to say the soundtrack will be a belter. MH
Games
The Legend of Zelda: Tears of the Kingdom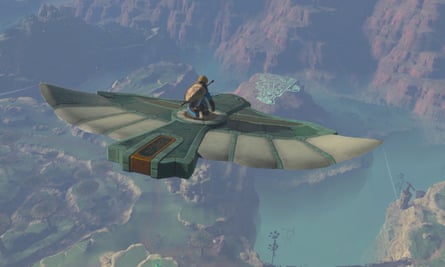 Tears of the Kingdom is a sequel to 2017's astonishing reinvention of The Legend of Zelda series, first conceived by Super Mario's-maker Shigeru Miyamoto. So confident is Nintendo in its new game that most details have been kept hidden, bar the fact that this is a return to the breezy spectacle of Hyrule, a bucolic world of secrets based on Miyamoto's boyhood experiences roaming the Japanese countryside. Its hero, Link, can once again soar using a glider, now using wind currents to hop between a series of islands in a floating archipelago. A live-in fairytale that promises a vibrant, expansive adventure that will delight all-comers. Coming 12 May. Simon Parkin
Architecture
East Bank Stratford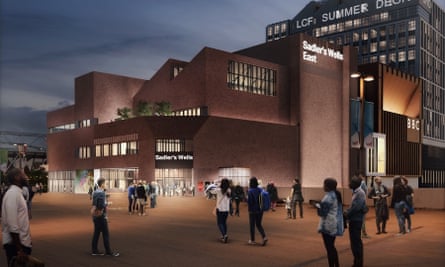 East Bank, the £628m cultural complex in the Queen Elizabeth Olympic Park in London, has been called "the most ambitious scheme of its kind since the Great Exhibition gave rise to all the Kensington museums in 1851". In 2023 we will see if it lives up to its billing, with new buildings opening for the London College of Fashion, University College London and Sadler's Wells dance theatre. The Dublin-based architects O'Donnell and Tuomey have gone for what might be called a high-end industrial look for the latter, with saw-toothed roofs in the style of old factories. The same architects' more sculptural V&A East Museum is due to open in 2024. Rowan Moore
Art
Gwen John at Pallant House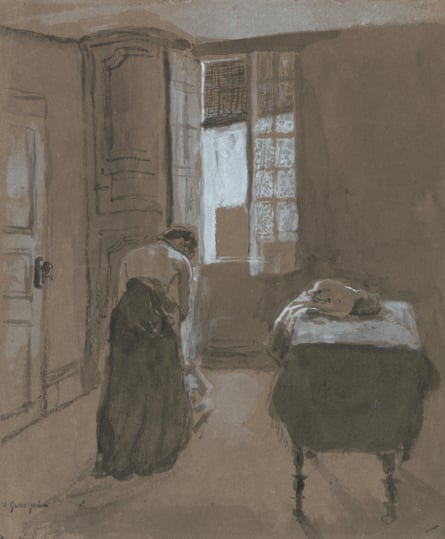 The first major exhibition in 20 years of this magnificently original British artist comes to Pallant House Gallery, Chichester, from 13 May to 8 October. The focus is on John's career as an independent woman living between London and Paris at the turn of the 20thcentury, moving among like-minded contemporaries, including Rilke, Rodin and Paul Modersohn-Becker. Featuring more than 200 paintings and drawings, including the great self-portraits, this will be unmissable. LC
Theatre
Hamnet from the Royal Shakespeare Company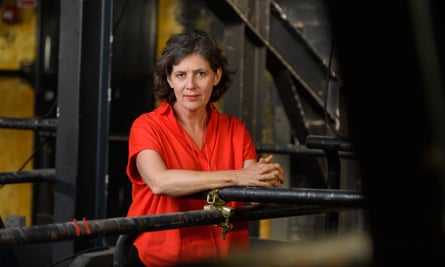 An inspired choice for the RSC. Lolita Chakrabarti, author of the revelatory Red Velvet and the stage version of Life of Pi, has adapted Maggie O'Farrell's novel, named after Shakespeare's son, who died aged 11, perhaps from plague and was a possible inspiration for Hamlet. The production, directed by Erica Whyman, will open at the Swan in Stratford-upon-Avon on 1 April. It comes at a crucial point, as the company is on the brink of change. From June, Daniel Evans, from Chichester's Festival Theatre, and Tamara Harvey, of Theatr Clwyd, will take over as artistic directors. The two, who are regular collaborators, applied together for the post: announcements of their plans, due in 2024, will be awaited eagerly. SCl